Sarees are a solid staple in an Indian wardrobe; one may dress them up or down as per the occasion. A chic, alternative trend that has sprouted out of this classic saree-blouse ensemble is the saree gown. An elegant cross between a saree and gown, this easy-to-wear design can help create the perfect Indo-western look. Think of it like a saree, but pre-stitched and draped to fit you like a gown. No more pleat-making or petticoat-wearing – a saree gown can be graceful, elegant, and saucy at the same time. Some people happen to be part of the 'a saree is not my thing, but a gown is too western' club. This pairing can answer a lot of your style dilemmas. Not to mention the comfort and ease of slipping in-and-out of a saree gown that fits just right. This is a stylish, comfortable and convenient alternative to dressy occasion-wear. Many local boutiques have also picked up on this trend and offer personalised tailoring of saree gowns. However, you may prefer to just purchase one instead. This article can be a helpful resource guide to start your search. The make-up and styling tips mentioned here are the go-to's for styling a well-curated look.
While the pattern and style of a saree gown is certainly important, comfort is the key contender. You would not want to spend an evening in an ill-fitting, uncomfortable dress. A light, breathable fabric is the best option for a saree gown. The fabric, cut and design should not create too much discomfort.
Next, we talk about the pattern. The pattern of any saree gown should fit the body like a gown. When you choose flowy fabrics, the drape falls better. Heavier fabrics like stiff cotton or brocade can add bulk to the outfit. One may avoid these. You can pick one of the newer, lighter fabrics available in the market right now. These include lighter silks, rayon and jersey.
One may also opt for fabrics like crepes, georgettes, or chiffons. These fabrics are lightweight with an elegant sheen about them.
The pattern of the saree gown is the next thing to consider. One may choose an all-over pattern, a plain fabric, or a symmetrical print. Such styles work well with a saree gown They also fit the dress code for most parties or work events.
Here Are Some Styles To Consider:
1.
This saree gown in crepe fabric is by Soup by Sougat. It is a contemporary outfit that features a fresh floral print. The feminine drape works well with different body shapes. The stripes-and-floral combination is a winner. It is an ideal outfit for a light function or a formal day at work. The pink and blue colour scheme binds well with the white stripes. Also, it is comfortable!
Makeup tip: A fresh pink lip with mascara would work well here. Alternatively, some kohl and blush will work well too. A spritz of your favourite perfume along with a sparkly pair of sandals complete the look.
2.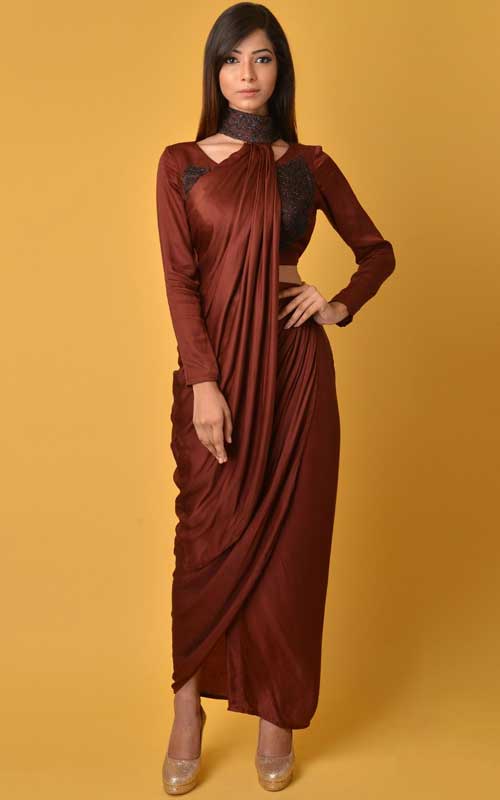 This is a rust-maroon saree gown with a great drape. The modal satin fabric makes it comfortable and light. The strategic drap adds a great silhouette. The sequin work on net fabric adds a fresh dimension to this ensemble. The high neck style and full sleeves make it the perfect attire for a formal evening.
Makeup tip: A deep maroon or burgundy lip adds instant drama to this look. To keep the makeup light, one can opt for a nude lip with smokey eyes in a deep brown and gold shade. A peach blush with a gold sheen can help brighten the face with this dark ensemble. The dark colour also gives it a slimming look. Heels or sandals in a nude or metallic colour complete the look.
3.
This embellished saree gown in a sage green colour is by Khwaab by Sanjana Lakhani. It features sequin embellishment on the neck, waist, skirt and dupatta. The attached pleated drapes make it a comfortable option. The offset of golden embroidery against the green makes for a festive look. A sheer waist band and neck line add grace. The ruffled hem perfectly balances this ensemble. It all falls well on the light georgette fabric.
Makeup tip: Any bright lip colour is sure to add pop to this outfit. A bronze-peachy makeup look with mascara topped on the golden liner is also a winner. As per the length, one may choose to wear heels or flats with this saree gown.
4.
This is a printed saree gown by the designer Masaba Gupta. The bright orange georgette fabric perfectly offsets the signature black print. It has a pleated, attached drape with a straight back. A v-neck style and full sleeves make it an ideal professional ensemble.
Makeup tip: For an ensemble so bright, a nude lip with smokey eyes would work well. One can also play up the cheeks with some bronzer. A pair of dangly earrings and chic shoes complete the look.
These saree-gowns cover the different designs and patterns one can opt for. Here are some more saree-gowns for inspiration :
5.
A pearlescent, blue saree gown.
6.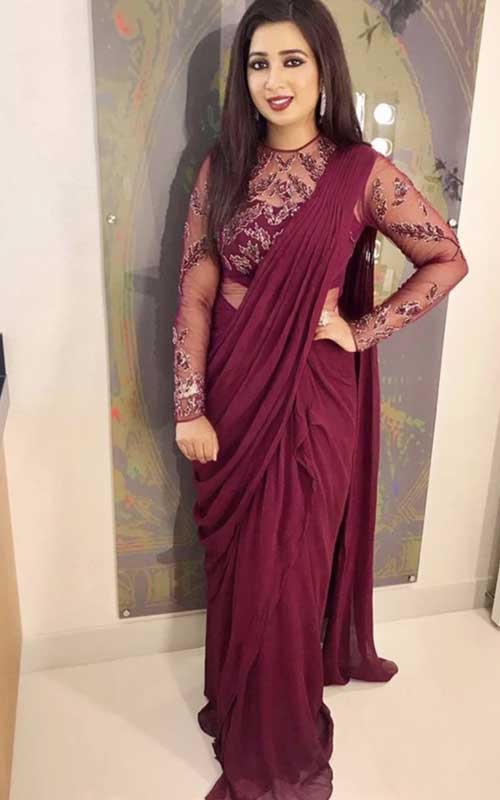 A beautiful maroon ensemble with sheer blouse.
7.
For lovers of pink, featuring sheer blouse.
8.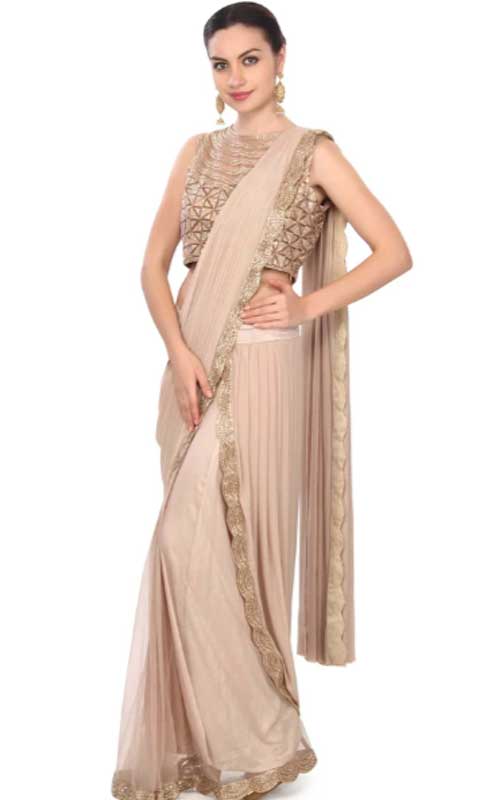 A classic in beige.
9.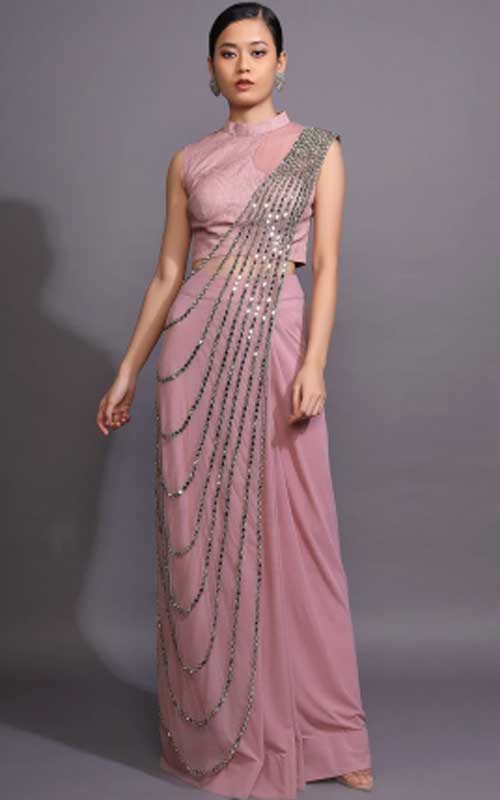 A mauve-pink saree-gown with a mirror work drape.
10.
A perfect medley of mustard and florals.
11.
A beautiful drape with an embroidered bouse.
12.
A Grecian twist.
13.
A corset-style saree gown.
14.
A gold and midnight-blue saree gown.
15.
Peachy, drapey, with a high neck and full sleeves.
16.
A grey-metallic saree gown with a great drape.
17.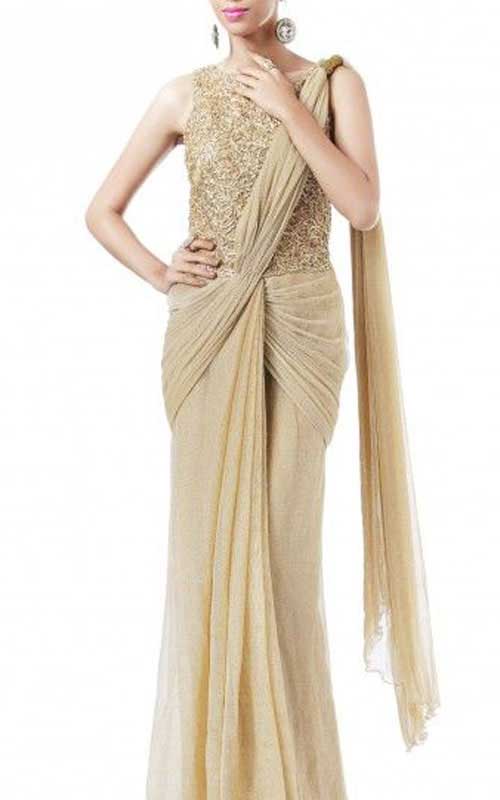 Simple, classic, and elegant.
18.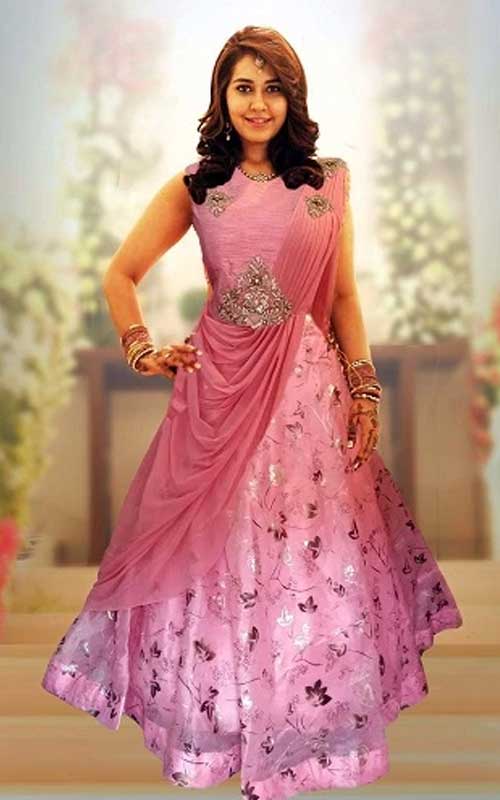 A pink, embroidered saree-gown.
19.
One-shouldered, copper saree-gown.
Finding The Perfect Saree Gown
With a range of saree gowns available, it can be tricky to choose the one that suits you. Here are some helpful tips to keep in mind when making your choice –
1. Pick the Right Print
While bright, big prints do look fancy, they can overwhelm a figure. Small, elongated printed motifs and designs look the best on almost everyone. A scantily spread print can help one look tall and slim.
2. Find Thin Borders
Overly bright and large borders can overwhelm the attire. Big borders make the frame look bigger. In an ensemble such as a saree gown, this may not work. Subtle or small borders work best for a sleek look.
3. Mark the Middle
This is a basic trick to tie any saree, and works well for saree-gowns too. Always tie them below the navel to create a waistline. Wearing a saree gown too high on the stomach can affect the fitting. It is also visually better to not let the waistband cut your frame in half.