Shying away from draping a saree because you don't think you've got the perfect figure for it? This post might surprise in more than many ways. Choosing and draping a saree is not only your fantasy but also a skill you must acquire. Every Bollywood actress you grew up admiring in a beautiful saree wasn't as tall and slim as you desire to be, yet they always looked elegant, graceful and super Indian in a saree. So guys, let's get started and learn some ultimate saree draping tricks to look slim and tall.
Choose The Right Saree

Yes, we all do have our personal preferences, occasions and seasons that are attributes of your choice of saree but when your purpose is to defeat your figure and emerge with a slimmer, taller and sexier silhouette, steer clear of fabrics such as cotton, organza and silk. These fabrics are stiff and thick. Not only do they gather along and look stuffy and conventional but they also make it difficult to drape them tightly. Instead, go for flowy fabrics that make good pleats such as chiffon, satin and georgette. They wrap around so well and do not give a stuffy look even in the spots where fabric is collected.
When it comes to choosing the right colour and pattern, opt for dark colours such as navy and black, which have always helped women look slim and tall in every attire in the history of fashion. Monochromatic ones, sarees with short prints or overall sarees with no (same) pallu are always the priority. You can also pick the ones with thin borders as lesser borders will boost your visual length. Stay away from large prints, animal prints and abstracts; instead, choose small paisley prints, vertical stripes or plain sarees that give you a slim and tall appearance.
Getting Your Blouse Ready

Assuming that you are getting your blouse stitched and not opting for a readymade one, keep these tips in mind while you choose your blouse style and fitting. Now that you are sure about your choice of saree fabric, colour and pattern, get a well fitted blouse tailor made after proper measurement.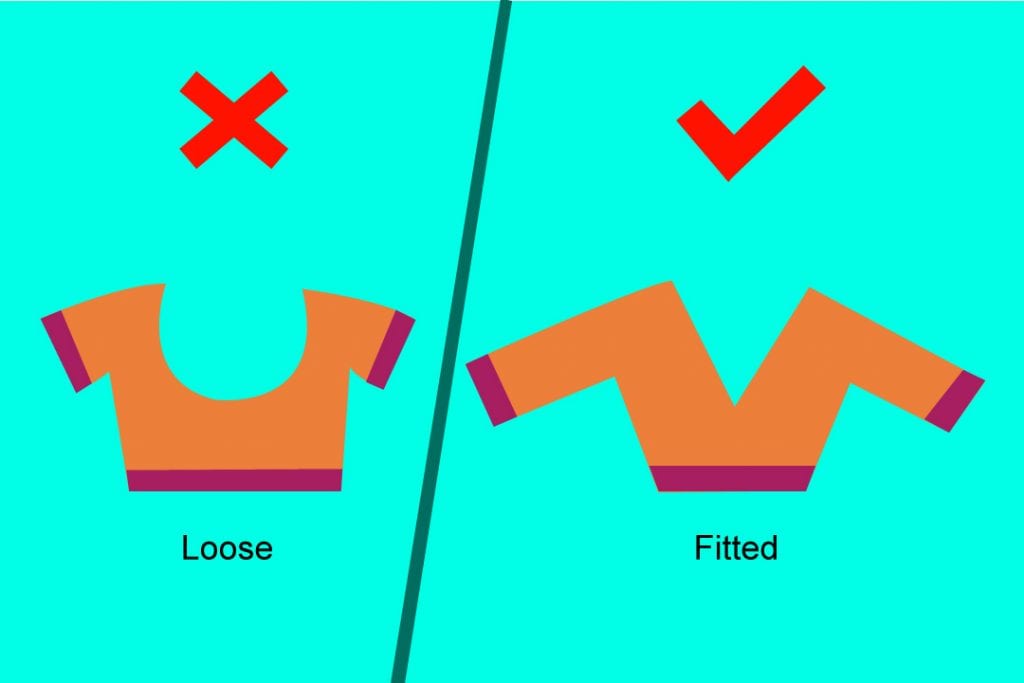 It's easier to give a measurement blouse or borrow your sister's blouse or friend's who apparently look (or weigh) the same as you but it's definitely not suggested. Even if you pick a readymade blouse, make sure you get it altered to your original size. Only a rightly fitted blouse can give your saree a neat look. Keep sleeves long, and neck reasonably deep. Square, 'V' and boat neck styles for your blouse will certainly give you a slender appearance.
Get A Shapewear Petticoat

Yes, they do exist! Petticoats as we have seen our mothers wearing are the stiff and firm underskirts that give shape to the saree. But contrarily, the shape that you are expecting cannot be achieved with this loose-fitted firm cotton underskirt that packs under your saree and gives it a fluffy look. As an alternative, what you need is a shapewear petticoat, which is a highly stretchable tight fitted underskirt that enhances your curves and streamlines the flow of your saree, giving you a slim, sleek and tall facade. You will get these petticoats in the market or online in all basic colours. If you do not find your colour, you can always stick with skin coloured petticoat.
Pin it right

Once you're done choosing your saree, getting your blouse stitched and buying the right petticoat, it's time for some hands-on practice for draping the saree correctly and pinning it at the right places. Too many gathered layers at one place seem to give a bulky look to your saree, apparently falsely giving you a stout look. Make sure your front pleats below your navel are evenly distributed so that a lot of saree fabric is not gathered to give a bulging tummy delusion.
Also, when you gather your pallu, follow the same practice of distributing the fabric evenly, instead of gathering the entire pallu. With thin fabrics like chiffon, georgette and satin etc, managing your pallu also becomes much easier. So just be skillful in making pleats and setting your pallu and a bit of practice will get your there in no time.
Now that you are done with choosing and draping your saree, these three tips will further help you in looking tall and slim in a saree-
1. Prefer high bun with your saree
2. Choose statement jewelry
3. Wear high heels or wedges
So, just get started and give yourself a complete makeover. Break the stereotype that sarees are for tall and slim ladies and surprise everyone!