To treat acne, we need to understand the roots of the cause. What causes acne? The reasons are varied, it could be an imbalance in hormones, change in diet, clogged pores, infection, dandruff and the list goes on. Once you know the cause of your acne you can not only use an anti-acne face wash but also bring out the required change in your lifestyle.
When looking for a face wash, it is important to look for ingredients that address the issue. Ingredients like tea tree, neem, salicylic acid, Glycolic acid help in unclogging and cleansing pores. While ingredients like aloe vera, turmeric, hyaluronic acid and other help restore the moisture of the skin. This information could be daunting hence, here is a detailed list of the best face wash for acne with respect to different skin types.
1. Plum Green Tea Pore Vegan Cleansing Face Wash – For Oily & Acne Prone Skin
Amongst all Plum's skincare ranges we love Green tea version the most. It targets the main reason for breakout – clogged pores. The Green Tea Pore cleansing face wash cleanses the skin gently yet thoroughly and effectively to remove excess oil and avoid blocked pores. The SLS and the soap-free formula is an added benefit. The star ingredient, Green tea is a rich source of antioxidants that help slow down the ace formation process while the glycolic acid adds in moisture and removes old cells that can make the acne even worse. The cellulose beads help in gentle exfoliation.
2. Himalaya Herbals Neem Face Wash
The OG of all anti-acne face washes, Himalaya Neem face wash is enriched with the goodness of neem which is a natural cleanser and has anti-bacterial properties that help get rid of the impurities and tackles the bacteria at the root. The other ingredient is turmeric which is a natural anti-septic and gives the skin a smooth and bright effect.
3. MCaffeine Neem Cleanser with Argan Oil and Vitamin E Face Wash
The MCaffine Neem Cleanser is the best face wash for acne if you have a combination or oily skin tone. This face wash keeps excess oil at bay, thus reducing the possibility of clogged pores that lead to acne. The Argan Oil and Vitamin E give a hydration boost to the skin making it smooth and supple. It is free from parabens and is dermatologically tested as well.
4. VLCC Alpine Mint and Tea Tree Gentle Face Wash
The VLCC Alpine Mint and Tea Tree face wash is a foaming face wash that leaves your skin feeling fresh and lively. Mint gives you a refreshed feeling while the tea tree fights the bacteria built upon the skin. The cellulose granules are a gentle exfoliator without being too harsh or rough on the skin. This is a great option for normal skin type users.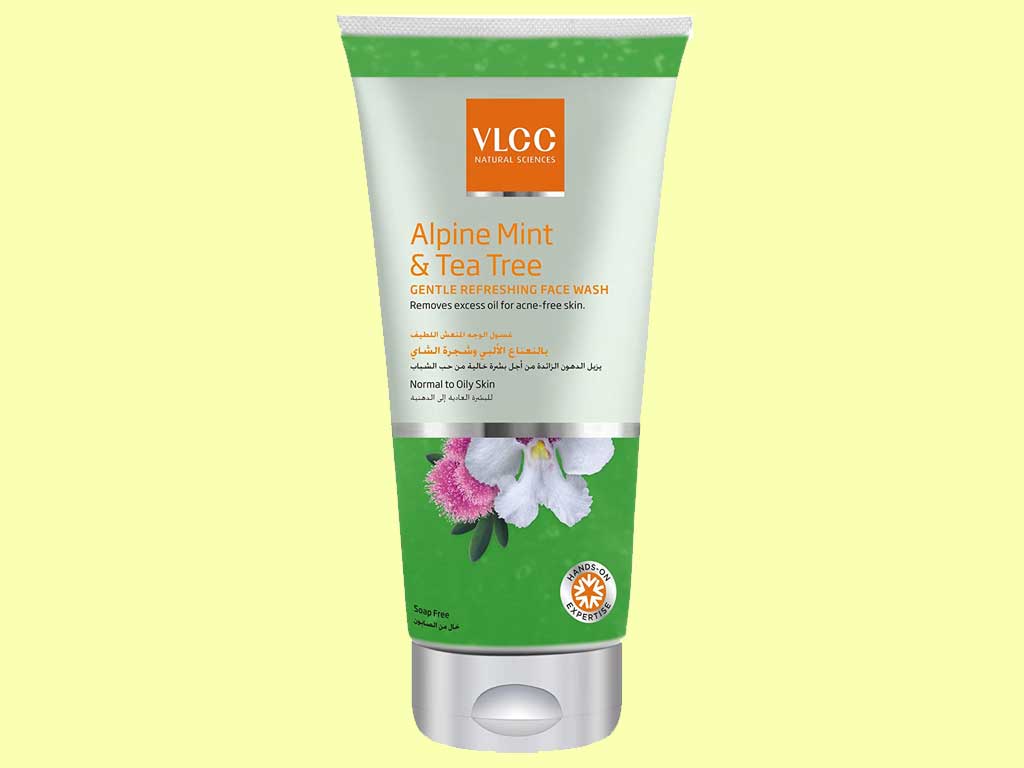 5. Biotique Bio Neem Purifying Face Wash
Ayurveda has some of the best face wash for acne. The Biotique Bio Neem face wash is one such specimen of excellence. The face wash is slighting runny in nature but does a great job. The face wash consists of all-natural ingredients like ashwagandha,neem,reetha, honey, coconut oil. Ashwagandha boosts the collagen levels while neem and reetha purify the skin and honey and coconut oil moisturizes.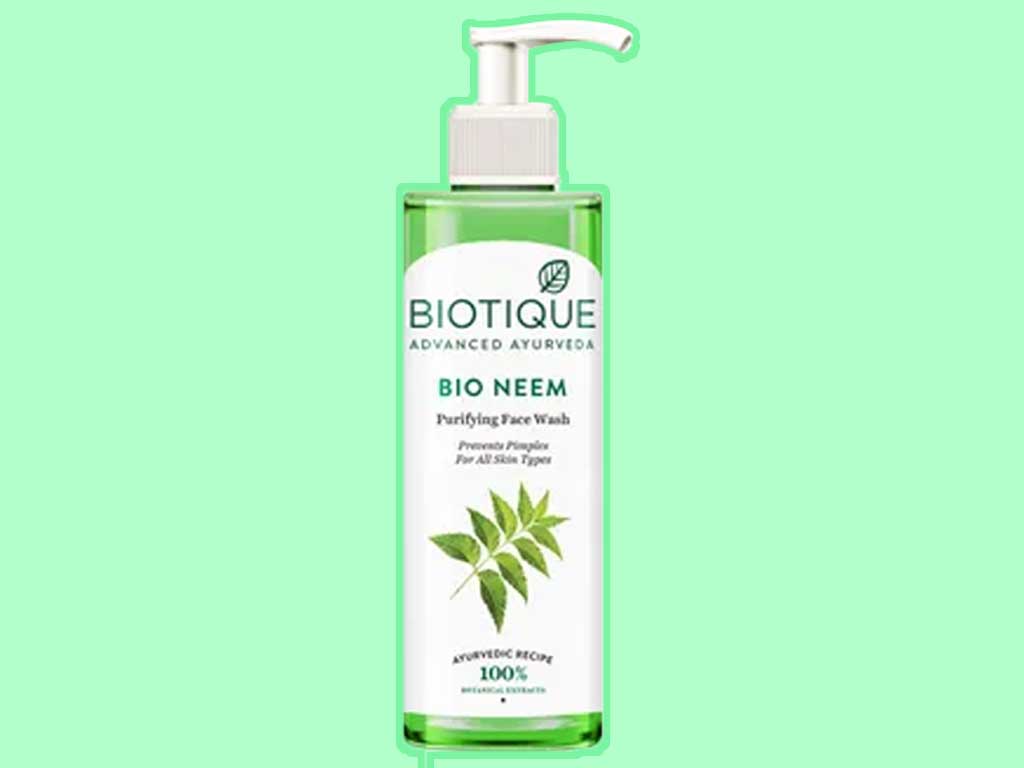 6. Torrent Ahaglow S Face Wash
A lesser-known gem, Torrent Ahaglow is like the underdog of the face washes. If you have active acne this face wash helps to reduce it and eventually get rid of it. The foamy consistency isn't harsh on the skin and leaves a clean look and feel of the skin.
7. La Roche-Posay Effaclar Medicated Gel Cleanser
If you are into luxury skincare, the La Roche-Posay Effaclar gel cleanser is not only luxurious but also knows how to do its job. The face wash contains Salicylic Acid Acne Medication (2.0%) that helps in combating acne and breakouts. The microex foliating Lipo Hydroxy Acid aids in maintaining the oil production of the skin and get rid of debris and excessive oil. The face wash is gentle and has a pleasant fragrance. It is great for the oily skin type and helps in giving a matte look.
8. Cetaphil Gentle Skin Cleanser
Cetaphil gentle skin cleanser is good for sensitive and prone to acne skin type. Its dual action formula cleanses the skin while hydrating it simultaneously. The face wash is mild and helps in maintaining the pH balance of the skin. The product is devoid of soap and aids in unclogging skin pores.
9. Avene Cleanance Gel Face Wash
Avene Clenance cleansing gel face wash has been quite a rage since it's launch. The gentle, paraben-free, and soapless base cleanses your skin gently and leaves it feeling refreshed and supple. The gel consistency ensures to retain the required oils of the skin as well as maintain its pH level. Glyceryl laurate regulates excess sebum and mattifies the skin. Thermal spring water is a naturally soothing, softening agent that provides instant soothing. This face wash is specially regulated for oily skin type.
10. Lotus Herbals Tea Tree & Cinnamon Anti-Acne Oil Face Wash
Not many know that Cinnamon is a natural cleanser which removes dead skin cells and restores natural shine to the skin. It improves blood circulation making the skin look and feel younger, while Oak Bark has astringent properties to soothe acne inflamed skin. It is also effective in reducing the appearance of acne scars & blemishes. The face wash does not have any aggravating odour and is a true blessing for those with acne-prone skin.
11. Neutrogena Oil-Free Acne Wash
Enriched with salicylic acid, the Neutrogena Oil-Free Acne Wash help you wash away your acne problems. It clears acne with each subsequent wash. Salicylic acid is known for its cleansing properties and with every wash, it treats the existing eruptions and prevents future breakouts. Aloe vera and chamomile in this cleanser soothe your skin. The Oil-free formula prevents future breakouts and maintains the naturally required oil volumes. The foamy texture enables deep cleansing of pores.
12. Sebamed Face Cleansing Foam For Acne Prone Skin
Dermatologically tested, this face wash helps you get rid of acne in a scientific way. Infused with montaline c40 and panthenol, the face wash instantly removes bacteria from the skin's surface giving you a fresh and energized look. The face wash is also effective against blackheads and whiteheads. This non- comedogenic formula is devoid of harsh chemicals and ingredients.