Want glowing skin like your favourite stars? Behold, the humble tomato- an easily available beauty ingredient for clear and radiant skin. You might have heard about the benefits of tomato from your mother and grandmother and how it's a beauty-enhancing ingredient. Tomatoes are wonderful antioxidants as they have lycopene. Although they are slightly acidic, they are also a rich source of potassium and Vitamin C. This makes them great for quick skincare remedies and fixes. Whether it's dull or ageing skin, the tomato can be used for remedying all skin problems. It even works on sunburns and blackheads. If you have oily skin and especially suffer to find a proper balance, the tomato will be your friend. Its natural astringent properties reduce the extra sebum on your skin's surface, thereby preventing oil build up. This also helps reduce the chance of stubborn blackheads and whiteheads.
Tomato can be a great friend for those with oily, acne-prone skin. Since it reduces oil build-up and helps tighten pores, the chances of getting acne are also reduced. A weekly tomato facial can be the Holy Grail for perfect skin!
Doing a Tomato Facial at Home
Skincare is no joke! But, it doesn't have to be challenging either. Here's what you can do with the tomato for flaunting clear beautiful skin.
Any skincare routine should begin with cleansing your face. Use a good foamy face wash and start with a blank canvas for your tomato facial.
1. Double Cleanse with Tomato Face Cleanser
Remember the steps for getting the Korean glass skin look? Once you have cleansed your face with a face wash, it's time to repeat the process with a tomato cleanser. For this, you will need tomato pulp and fresh milk. Mix 1 tsp of tomato pulp with a tsp of fresh milk and soak a cotton ball in it. Now, use this to gently cleanse the skin. Don't forget to cleanse the neck too! Leave it on for 10 minutes and wash with lukewarm water. Pat dry and move on to the next step.
2. The Tomato Scrubber
For this, you will need a medium-sized firm tomato. Cut the upper portion of the tomato with the green stem intact onto a circular pad- like structure. Take a plate and add some sugar to it.
Dip the cut tomato on the sugar to evenly coat it and buff it gently around your face in circular exfoliating motions. The fine particles of sugar make it an excellent natural exfoliant and can be really handy for revealing the glowing skin underneath the dull exterior.
Keep it on for 10 minutes once done, and then wash it off. Towel dry and skip to the next step.
Here's a video that shows you how to get it right!
You may also like: How To Make An Awesome Besan Ubtan Face Pack At Home?
3. The Tomato Face Pack
One of the most tried and tested methods for a tomato facial is to mix tomato paste with turmeric. Remove the seeds from the tomato and mash it to form a fine paste. Add 2-3 tsp of turmeric powder to this paste and stir it until the ingredients are evenly mixed. Turmeric has been frequently used in Indian households for its beautifying properties. It fights off acne and its anti-inflammatory characteristics make it apt for treating skin problems. Besides, it has been proven to safeguard against sun damage and ageing. If you have dry skin, turmeric will be a great natural choice for soothing it.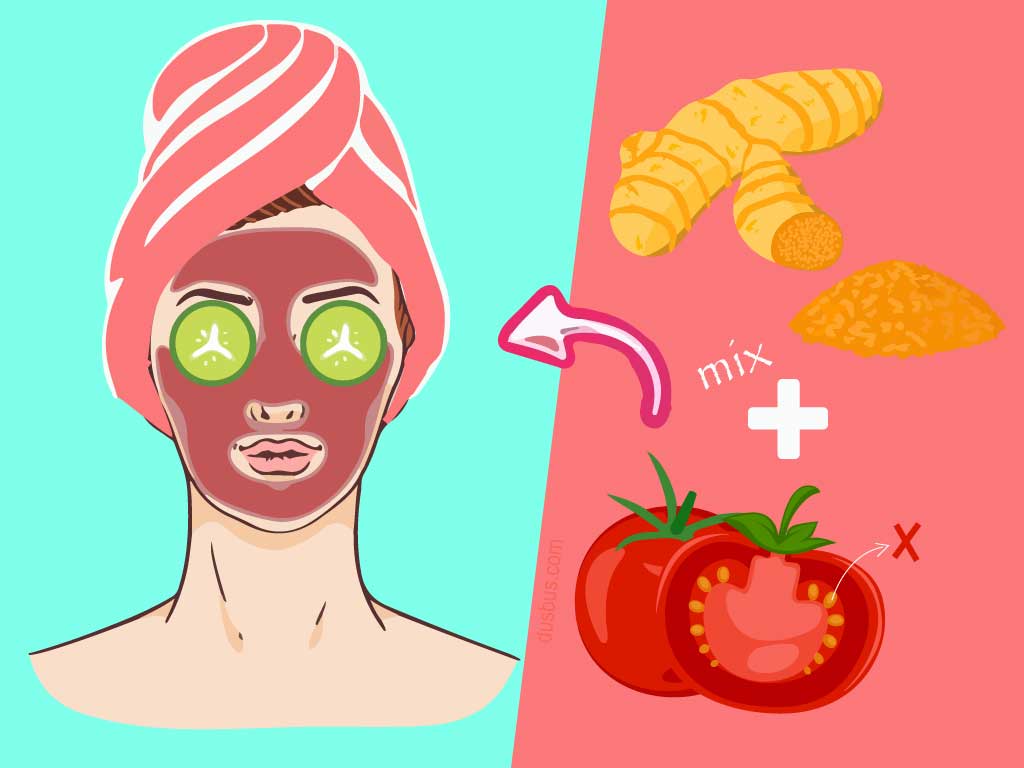 Apply this mixture on your face and neck and let it dry for about 15 minutes. Wash it off with lukewarm water and notice the difference for yourself! Tomatoes along with turmeric work great on dull skin and restore the natural radiance and glow. It also evens the skin tone and helps prevent acne breakouts. If you are seeing fine lines and wrinkles, this face pack will work wonders in eradicating them.
Adding honey to your tomato paste is a great way to rejuvenate and moisturise your skin. Honey is a brilliant hydrating agent and when mixed with tomato, gives your skin a natural glow that is sure to earn you compliments.
Additionally, you can do a tomato facial with tomato paste and yogurt. This mixture nourishes the skin tissues and makes your skin soft and supple.