Korean beauty has taken the world by storm with its innovative products and beauty secrets. K-beauty is all about that baby-soft clear skin with a touch of radiance. Korean skincare got everyone hooked with masking, snail mucin, double cleansing and other very viral skincare secrets. As weird or far-fetched as it may seem, Korean beauty is here to stay and for a reason. One of the most popular k-beauty trends is the impeccable glass skin routine. The Korean glass skin look went viral in the past year with #glassskin trending all over the Internet. It is all about flaunting that clear, translucent and glowing skin.
There is one thing you need to remember before setting out for the Korean glass skin look- it demands meticulous effort. It cannot be achieved in a single lazy step, but is definitely worth the praise!
The secret of the Korean glass skin:
What is the glass skin that has everyone raving? According to K-beauty blogger and skincare expert, Jude Chao, the glass skin is used for flawlessly smooth, even-toned and radiant skin which gives off a glass-like appearance. It simply is a classy term for defining a certain type of desired complexion, inspired by Korean complexions. The aim is to flaunt an extremely moisturized skin which gives off a natural youthful radiance, making the skin look glass-like. Chao believes that the glass skin routine focuses on a multi-dimensional approach. For flaunting the glass skin look, the skin has to be exceptionally smooth, without any bumps or scars. The skin has to be thoroughly moisturized from within to give off a moist and lustrous appearance which catches and reflects light. The skin should also look firm, the likes of a teen in the prime of her youth.
Skincare Blogger, Sheryll Donerson also believes that glass skin look is a multi-dimensional one and demands a consistent skincare routine. Chao recommends watery products with humectants like hyaluronic acid and glycerin and layering them. The idea is to either layer one product multiple times or layering with multiple hydrating products for trapping the moisture.
Step by step guide to the Korean glass skin look:
1. Double cleanse your skin
Koreans love their double cleansing routine as they believe it's important to begin fresh. Double cleansing is more effective than normal cleansing as it helps to remove dirt and impurities from deep within. Begin the glass skin routine by using micellar water or cleansing oil to remove the first layer of makeup. It also helps rid the skin of extra oil which accumulated overnight. You can opt for the Garnier Micellar Cleansing Water or the Garnier Micellar Oil-Infused Cleansing Water based on your need. The Micellar Cleansing Water is good for removing makeup and soothing the skin while the Micellar Oil-Infused Cleansing Water removes waterproof makeup with ease and nourishes the skin.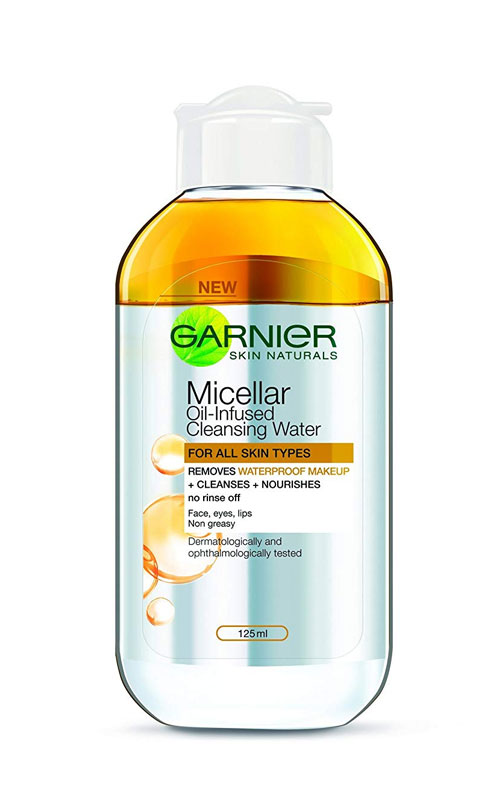 Follow this up by washing your face with a mild foaming face wash.
2. Gently exfoliate with a facial scrub
Exfoliation is an important step for any skincare routine. Gentle exfoliation helps to remove dead cells accumulation on the skin. This brightens the complexion and rids it off dullness. But remember not to overdo it. Facial exfoliation is recommended 3 times a week. MCaffeine Naked Detox Green Tea Face Scrub is an amazing option for the glass skin routine. It contains hyaluronic acid, an important ingredient for the glass skin look.
3. Toning for better skin
Toning cannot be skipped, if glass skin is the desire! K-beauty toners are specifically formulated to moisturize the skin, enabling better absorption of following products. Innisfree, a popular Korean brand, is known for its hydrating toner varieties. You can choose between the Innisfree Jeju Volcanic Pore Toner and their Green Tea Seed Skin Toner based on your preference.
4. The essence of clear skin
Korean beauty takes its essence very seriously! These lightweight counterparts of serums prep the skin and nourish it from within. The watery consistency enables quick absorption, allowing you to move forward quickly. Tony Moly, a popular South Korean beauty and skincare brand offer The Chok Chok Green Tea Watery Skin essence with naturally fermented green tea extracts. The essence helps to brighten the complex and revitalize the skin while also purifying it.
5. Add a serum
The Korean glass skin look is incomplete without a good serum. You can check out The Face Shop White Seed Brightening Serum for your skincare routine. Experts believe that serums are crucial for nourishing the skin, enhancing complexion and firming it. Face Shop's Brightening Serum packs in White Daisy Flower extracts, a natural brightening ingredient to bring out the radiance of your skin.
6. A boost of hydration
Quench the thirst of your skin with a moisturizer. The idea is to use a lightweight moisturizer that also nourishes the skin. A popular choice for lasting hydration is Clinique's Moisture Surge 72-Hour Auto-Replenishing Hydrator. This face moisturizer packs in amazing ingredients which ensure up to 72 hours of rousing hydration. Its replenishing water-gel texture is free of oils and gets readily absorbed into the skin. It delivers an enormous moisture boost for plump and healthy skin almost instantaneously.
7. Masking it right
K-beauty and facial masks go hand in hand. Give your skin the extra set of nourishment by choosing a sheet mask that best suits you. There are multiple Korean brands like Tony Moly, The Face Shop and Innisfree offering a wide variety of face masks with added skin benefits.
8. Eye cream for tired, puffy eyes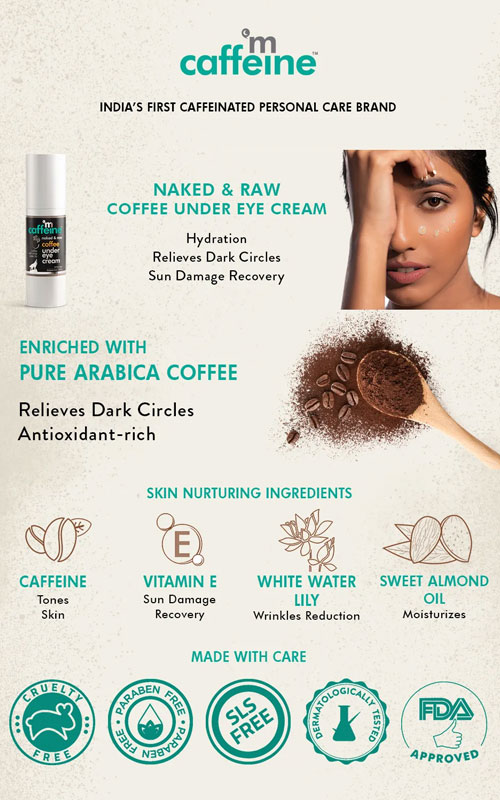 A flawless skin also demands extra care for those dark circles and bags under the eyes. An element often missed out from our daily skincare routine, eye cream is critical for nailing the glass skin look. The MCaffeine Coffee Under Eye Cream and Innisfree Green Tea Seed Eye Cream are two options that you may look into for under-eye moisturization.
Remember the key to achieve the glass skin look is to keep at it regularly. As Jude Chao says, this requires patience and persuasion. It's crucial to stick the routine and the skincare products without experimenting frequently. Also, it's important to drink plenty of water for keeping the skin hydrated from within.