My grandma was nuts about sarees. My mother is no less. And I am like my grandma! Everytime a woman draped in a beautiful saree, I invariably pause and admire. But I still end up wearing a kurta or top most of the time. For just one reason. It takes a whole lot of time to drape a saree the right way. But times, they are a changin'! With these almost ready to wear palazzo sarees, draping is no longer an issue, and I can finally wear my favourite attire more often.
1. Shibori Dyed Palazzo Saree, a la Bandhani
Ain't this one absolutely pretty! These palazzo saree has been dyed using the Japanese shibori technique. It is a manual resistance dyeing method, similar to the Indian bandhani tie-dye style. The result, as you can, is absolutely fabulous. And of course, it is an almost ready to wear saree. Which means you can drape it in under a minute. Less than the time it takes to make a maggi!
2. Embellished Palazzo Saree with Detachable Pallu
Now, that's one uber chic way of draping a saree! And it's flying fast off the shelves. Last 2 pieces remaining.
3. Ready to Wear Saree in a Beautiful Mustard Yellow
Just the right colours for the festive season, which ain't too far away now. Pick this one for the Puja-Navratri season.
4. Orange & Purple Tie & Dyed Unstitched Palazzo Saree
5. Palazzo Saree Set
6. Stylishly Elegant Shibori Dyed One Minute Saree
You may be able to add extra coupon or discount codes to bring down the price further than mentioned below.
7. Pure Cotton Palazzo Saree
'Tradition meets comfort' – there is no better way to describe this saree than that. This can be another great pick for the festive times ahead.
8. Mustard Yellow Printed Palazzo / Dhoti Saree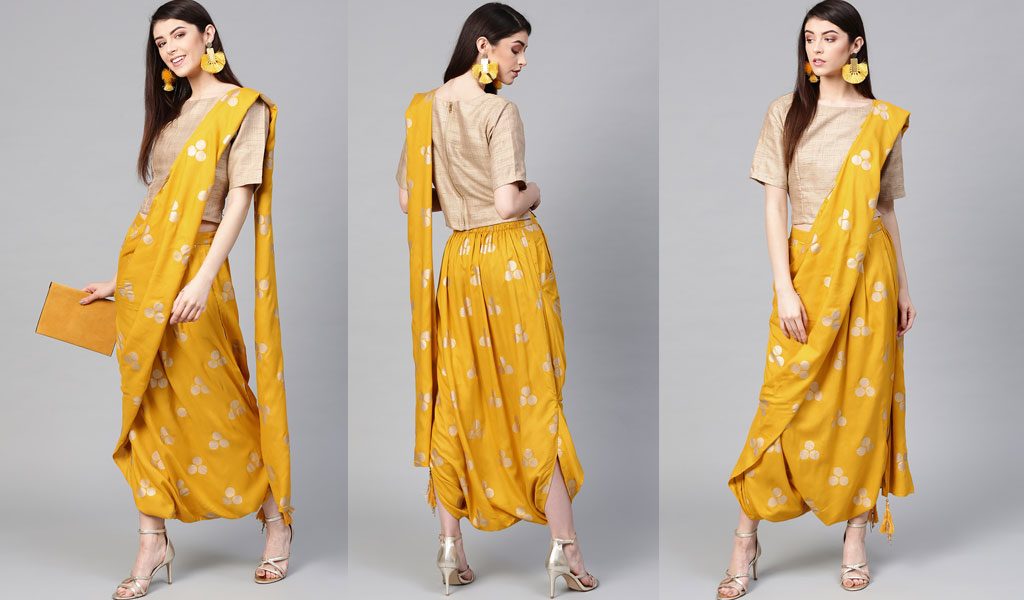 This one is somewhere in between a palazzo saree and a dhoti saree. Comes with an attached dupatta – 2.5 metres.
More: