When someone tells you targeting a specific area for losing fat is a waste of time, then the time has come to get a different pair of glasses and change your perspective. Of course, it is possible to target a specific region, and in the due course, you might lose fat from other parts of your body too. So let's get a bit optimistic here and learn how to lose thigh fat to brace yourself for your favourite- the 'shorts and short dresses season'.
1. Why walk when you can dance?
Dancing is fun. It keeps you footloose and in high spirits, while it also strains your legs and eventually tones them up.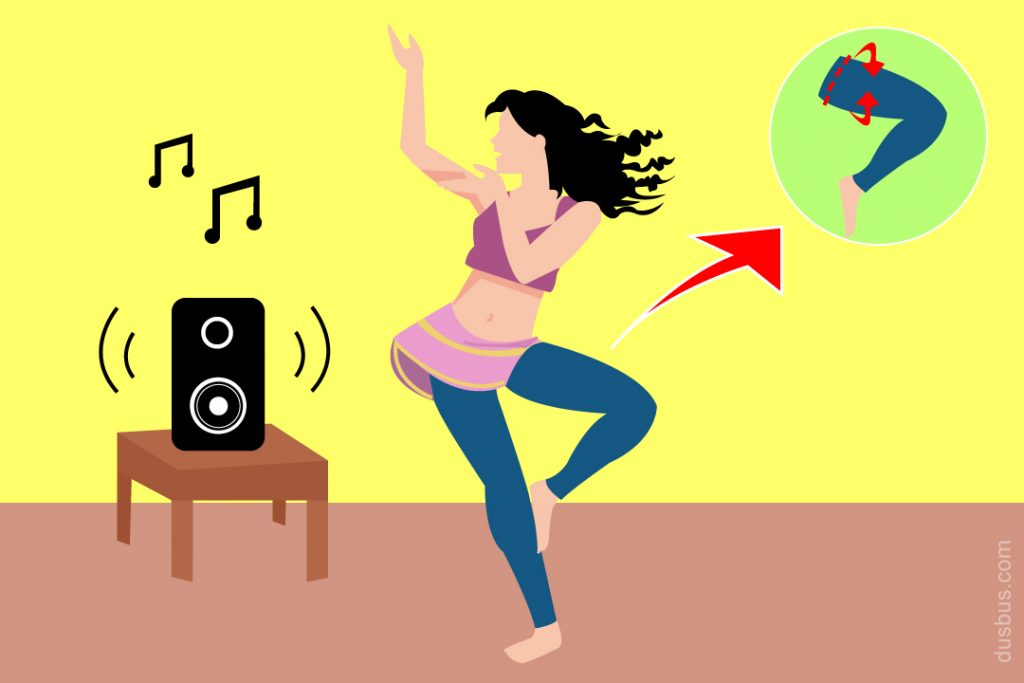 Make a routine and make sure you follow it. Pick up your favourite music and get your groove on. Join a group or class, or do it at home, but ascertain that you do. There's no other fun way to lose thigh fat and tone your legs.
2. Those who don't jump, never fly
Specifically, we are referring to jumping rope here. Jumping or skipping is a cheap, adaptable and handy way to work up not just your legs, but all the wiggly fat on your body. It boosts your neuro-muscular co-ordination and improves body balance. So, morning or evening, fix up your daily appointment with your skipping rope.
3. Exercise to stimulate, not to annihilate
Pick up exercises that take you closer to your goal. Consistency and regularity is much more important than wearing yourself out to an extent that you skip your session for days to come.
There are a few exercises discussed further that should help you in losing the bulge around your thigh and get your legs in shape.
Squats and lunges to lose thigh fat
Yes, you can work on squats and lunges alternatively each day. Not only it keeps your workout entertaining, but it also helps your high muscles to strengthen up more effectively and burn the fat around that area. When you switch up your moves, it sets up the level of challenge your muscles endure in order to tone up and get conditioned.
Educate yourself about HIIT
High-intensity interval training can be very much done at home. Grasp more knowledge about them, read a few articles, watch a couple of youtube videos, and you'll know how trending these are at the moment. So much that there are dedicated mobile apps that help you carry out HIIT at home and sometimes without any equipment at all. Twice or thrice a week of HIIT is a good enough dosage for a future that boasts of sexy legs.
Some other workout options that are actually effective for legs and thighs are aerobics that work on your calves, hamstrings, glutes and quadriceps, cycling, calf raises, leg lifts, single leg circles, step-ups, resistance band leg presses and bridge.
Alternatively, you can also watch this HIIT video to learn some effective workouts for thighs:
Don't make excuses, make results
Strengthen your muscles because the workout options discussed above might leave your legs flabby and lose if you do not work on strengthening your muscles. There are several leg strengthening exercises that can help you here, although some of which like cycling, step-ups and dancing are already going to be a part of your routine.
You will also like: 6 Simple Exercises You Can Try To Banish Bra Bulge
4. You become what you eat
The caption is scary, in case you are craving for some of your sinful yet favourite foods right now. When you are working so hard to tone up your legs, it's a smart step to watch your diet and be mindful of what you eat. Reduce your carbs and overall calories, eat fresh and in small portions and help your body shred out the excess fat from your body.
For starters, add a variety of fruits and vegetables to your diet. Avoid grains such as wheat and rice. While poultry, lean meats, seeds, nuts, pulses and eggs are rich sources of protein, avoid proteins such as kidney beans that also contain a lot of carbs and starch. Use healthy oils such as olive oil, ghee and coconut oil. Add plenty of fibers ad roughage to your diet.
5. You don't need booze to have fun
While you are working on your body in any possible way, alcohol can be your biggest enemy. Not only it is high in calories, it also deviates you from your goal and convinces you to have filthy appetizers and horribly heavy dinner (unless you pass out!). So, unless you really are a social drinker, abstain from grabbing that glass (or can).
6. Only you can change your life, no one can do it for you
Refrain from any kind of stress!! Employ various ways such as deep breathing, meditation, relaxation exercises and guided meditation to put relief to stress and anxiety. Anxious and stressed people are more vulnerable to weight gain and less likely to achieve their fat loss goals.
7. Put your feet up
Your leg health is of utmost priority. Take care of it. So, whenever possible, use a foot rest to support your legs, or elevate your legs to an ottoman or small table when sitting on a chair or couch. This will support your leg's venous system and restore blood flow and good health.