The red-bordered off-white saree and the puffed-sleeve blouse have been Bengal's gift to traditional Indian fashion. But there is much more to the Bengali style that you will find out in this article. For instance, Bengali style blouse designs are now quite popular in the fashion scene now.
The blouses are a mix of traditional designs and contemporary cuts. In short, it is perfect for the modern lady, who loves to wear a saree elegantly.
10 Bengali Style Blouse Designs
Be it art, culture, fashion or food, Bengal has an opulent tradition. You will find its mark in the blouse designs. However, these have been given a twist to suit modern-day fashion.
1. Bengali Blouse with Frills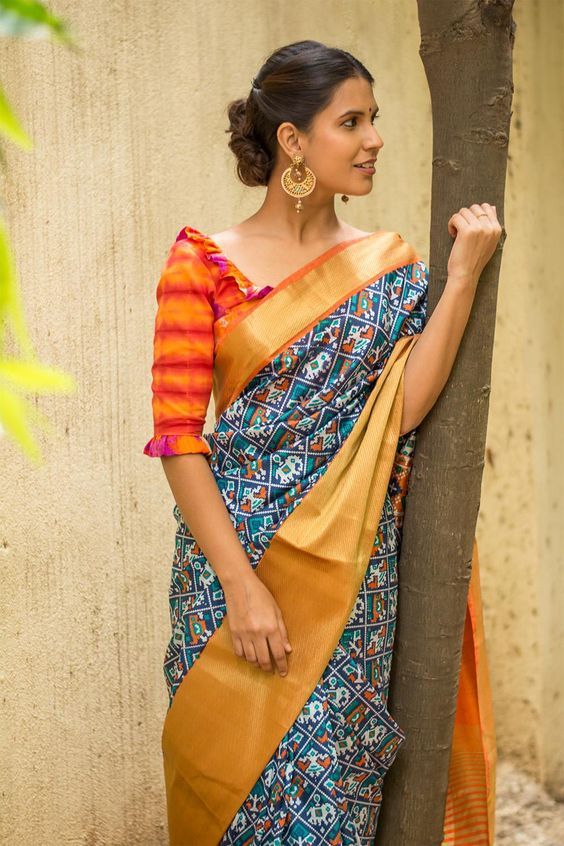 This blouse has frills on the round neck and on the sleeves. It is distinctly feminine. Actresses of yesteryears made these blouses a fashion statement.
These blouses can be worn at traditional events like Pujas and weddings.
2. Durga Print Blouse Design
The printed face of Ma Durga looks beautiful on this blouse. You can wear it with a solid-coloured saree in silk, cotton or even chiffon.
This ethnic blouse is ideal for all occasions.
3. Bell-Sleeved High Neck Blouse
Bengali style blouse designs traditionally had bell sleeves. Those sleeves have made a comeback in tops and salwar suits too.
The blouse looks really classy when you team your bell sleeves with a high neck. A Mandarin collar will also look great in it.
This may interest you: Kiara Advani 's Unique Blouses Will Teach You A Thing Or Two If You Have Run Out Of Blouse Design Ideas
4. Balloon-Sleeved Crop Top Blouse
The balloon sleeves are a contemporary version of the puffed sleeves that Bengali women traditionally wore.
The crop top style is strikingly modern. Meanwhile, the balloon sleeves give this blouse the ethnic look.
5. V-Cut Blouse with Balloon Sleeves
This is one of the designs that can give you a bold look. The V-neckline looks very stylish with the balloon sleeves.
You can opt for three-quarter balloon sleeves or even full balloon sleeves.
6. Side-Cut Blouse with Round Neck
When it comes to this particular blouse design, the side-cut blouses were worn by conservative ladies. These blouses came down to the hips. The side slits helped in maneuvering the pallu.
The side-cut blouse can be worn in conservative style or it can be contemporized by adding a zip to the side. Some ladies like the side slits in a simple blouse. A round-neck, side-cut blouse looks chic.
7. U-Cut Blouse with Puffed Sleeves
Women usually opt for this Bengali style blouse design for occasions like weddings. This blouse looks beautiful with a traditional Banarasi or a Kanjeevaram saree.
In addition, the broad borders on the blouse make your arms look shapely. Go for some embroidery on the neckline to give it that special bridal touch.
8. Ikkat Print Blouse with Button Sleeves and Collar
This is the ultimate tradition-meets-modern kind of a blouse. The V-cut neck with a short collar and the buttoned sleeves give you a formal look.
Wear this blouse at meetings, conferences and formal events. Team it with a simple Ikkat saree or any other cotton saree and see how you make heads turn.
9. Bengali Style Blouse with Pleated Neck
If you are looking for a blouse that would make you stand out then this is it. The pleats on the round neck and arms are typically Bengali.
Opt for a red blouse and wear a cream-coloured Garad saree with it.
10. Simple Deep Cut Traditional Blouse
This style is ageless. The sleeves of this blouse come down to the elbow and fit the upper arms perfectly. The deep round neck also sits well on the back. Some women opt for the air hostess neck to give it a formal look.
Let us know in the comment section below which blouse did strike you the most 🙂
This may interest you: 8 Check Points Before Getting Your Saree Blouse Stitched