Mangalsutra is the most important piece of bridal jewellery. It's a mark of marriage that a woman wears all her life. It is worn for the salubrity and long life of the husband. The origin of the Mangalsutra can be traced back to 6th Century AD when a yellow thread was tied around the bride's neck by the groom.
The modern Mangalsutra comes in black beads, gold and often has a diamond pendant. Since the Mangalsutra is meant to be worn for life, some very important factors should be considered while buying one.
10 Factors To Consider Before Buying A Mangalsutra
Traditionally the groom's side of the family purchases the Mangalsutra and ideally the bride should be consulted while doing so. Since she is the one who will wear it she should look into the following factors.
1. Convenience is key
Mangalsutra is not meant to be taken off and women wear it 24X7 post marriage. So something too heavy or too long could turn out to be unmanageable.
The best choice would be a lightweight Mangalsutra that is not too long. The length of the chain of the Mangalsutra varies from 14 inches to 32 inches. We believe 16 inches to 18 inches is a good length.
2. Get the Style Right
Modern women wear both western and ethnic clothes. So, a bride should choose a Mangalsutra that goes with both kinds of attire.
Those who wear ethnic clothes more often can go for a traditional design.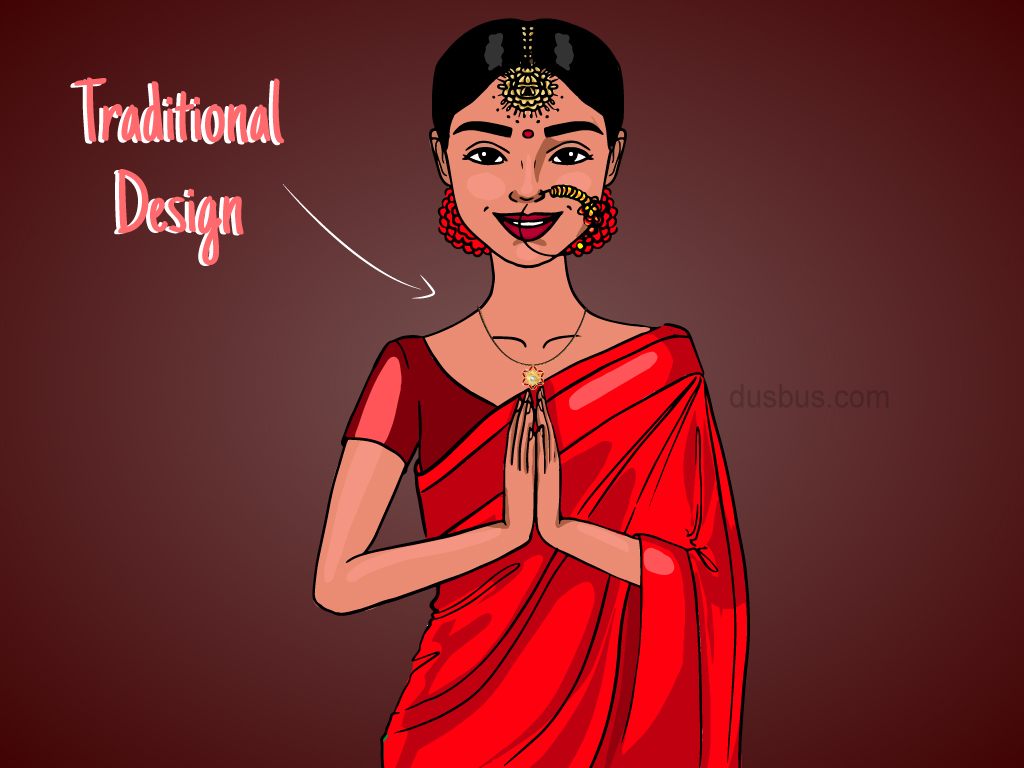 Those who wear western clothes can try the simple and elegant modern designs.
3. Keep Your Culture in Mind
In a culturally diverse country like India, the design of the Mangalsutra varies from state to state.
The black beaded Mangalsutra is worn by Biharis, Sindhis, Gujaratis, Maharashtrians while in the south it is mainly a pendant worn with a gold chain.
The pendant can be in gold in the shape of a thali (Thali Kodi as it is called in Tamil), or like two gold coins or discs (Bottu in Telugu). The Maharastrian beaded Mangalsutra comes with two bowl-shaped pendants called vatis. In north India, Kashmiris wear the Mangalsutra called Dejhoor.
4. Choose the Right Metal
Gold is the metal used in making a Mangalsutra. The choice is usually white gold or yellow gold.
But modern women are also going for rose gold and some are opting for the platinum finish in their Mangalsutra. A dual tone – both yellow and white gold – Mangalsutra also works great. It goes with all kinds of attire.
5. Focus on the Design
Most brides usually go for what looks appealing to the eye. But remember this is a piece of jewellery you will wear all the time, so the design has to be comfortable for you.
The chain should be light yet strong, the finish should not need regular polishing and maintenance and the clasp should be in gold. It should not in any way get entangled in your hair or clothing. Add a few extra loops in the chain.
6. The Pendant should be Chic
Keep your culture in mind when you choose a pendant. For instance, it could be made of gold or it could be made of diamonds. Moreover, precious gems and pearls also look good on a Mangalsutra.
Ideally, the design of the pendant should be simple, solid and comfortable for daily wear. In addition, you can go for two or three different pendant designs that you can slip on with your Mangalsutra chain to wear on different occasions.
Some amazing sleek designs are available these days.
7. Custom Made or Store Bought?
When it comes to buying a Mangalsutra you are actually spoilt for choice. While jewellery stores have a wide range, there are a lot of new designs available online.
But if you have a particular design in mind then you can get it custom made. Just ensure you use 18K or 22K gold.
8. Run a Quality Check
The Mangalsutra is a lifetime investment. So, it should be of the best quality. The diamonds losing their sheen or the gems coming off can be really annoying.
So check for the best quality when you buy your Mangalsutra. Make sure you ask for gold and diamond certification at the time of purchase.
9. Work on a Budget
Mangalsutras are available in all kinds of prices. Starting from Rs 12,000/- the price of a Mangalsutra can go up to more than a lakh.
You should find out about the budget first before you make your choice.
10. Buy only with Return Policy
This is the last but the most important factor. Wherever you buy it from, ensure they have a return or exchange policy. You should be able to change the product if you are not satisfied with it.
Now go ahead and make your purchase and dazzle in your Mangalsutra.