The Puja Ghar takes a place of pride in most homes in India – be it Hindus, Sikhs, Jains or Buddhists. Besides serving as the daily place of worship for family members, it is also considered to be a source of positive energy for the house. Little wonder then that when planning a new home, we place a lot of importance on the location of the temple as well as its design and aesthetics.
Also, the Navratra – Diwali season is round the corner – a time when many among us like to give the Puja Ghars at our home a makeover.
We have handpicked for you 10 beautiful temples that are suitable for your residential spaces. We tried to choose a few different types – both in terms of design and material to suit different requirements. So, if you are planning to buy a new temple for your home, we hope you will find the perfect one here:
   
1.

 Milky Shoppe Station Multi-colored Temple
This one is the top of our selection: a combination of shades of blue with a lot of gold! What's more – it comes with a couple of drawers that will come in handy to store your puja samagri, Hanuman Chalisa or other prayer books, Agarbattis and the like.
Priced at Rs.4231, it is currently retailing on Pepperfry with a discount of 18%. Net Price: Rs.3450.00
⇒ Buy on Pepperfry.com 
   
2. 

Jodhpur Crafts Wooden Temple
This wooden beauty can be either placed on the floor or hung on the wall. At 34 x 45 x 25, the dimensions of this temple are comfortable for smaller living spaces.
Available now for Rs.4499/= (Original Price: Rs.5399)
⇒ Buy from  Snapdeal.com 
 
  ३. 

Pavitra Mandir with Meenakari
Made of wood and aluminium, some lovely Meenakari work enhances the look of this temple giving it a beautiful finish on its doors.
But the best part is that it is currently selling at a heavy discount of 55%.
⇒ Buy on Fabfurnish.com 
   
4.

 Univocean Wooden Home Temple
This beautifully carved wooden temple is currently going at a 39% discount. We selected this piece because of its minimal yet beautiful look. The only hitch is that because of India's climate, it is high maintenance – you will have to ensure that it is cleaned daily of dust particles.
   
5.

 Mannat Home Puja Ghar
Mango trees and its wood is considered auspicious in India, and that is the wood this temple is made out of. There is ample space for you to arrange pictures and idols of different deities.
⇒ Buy from Woodenstreet.com (note: this site has not been verified by us)
 
6. 

Bhavya Craft White Jade Onyx  Swarovski & Gold Temple
Marble remains one of the most popular choice of material for temple construction – from small temples for private residences to gigantic ones. The huge Prem Mandir in Vrindavan, opened only four years back is made almost entirely of Italian marble. Indians love marble, and this list of beautiful temples would have been incomplete without a marble piece on our list.
This Puja Ghar is made of composite marble and studded with Swarovskis and three gold plated domes. Not surprisingly then, it is the most expensive temple on this list.
Its price is Rs.20,000 but Pepperfry is offering a Diwali discount of 20% and a bit more.
⇒ Check it out on Pepperfry.com
  
7.

 Kavya Krafts Multi-colored Temples
Inspired by Jain Temples and colors of Rajasthan, this red and green piece is very well priced right now. Going for just Rs.2303 against its regular price of Rs.6000.
⇒ Buy on Snapdeal.com पर खरीदें
   
8.

 Pavitra Aluminium Temple with Carvings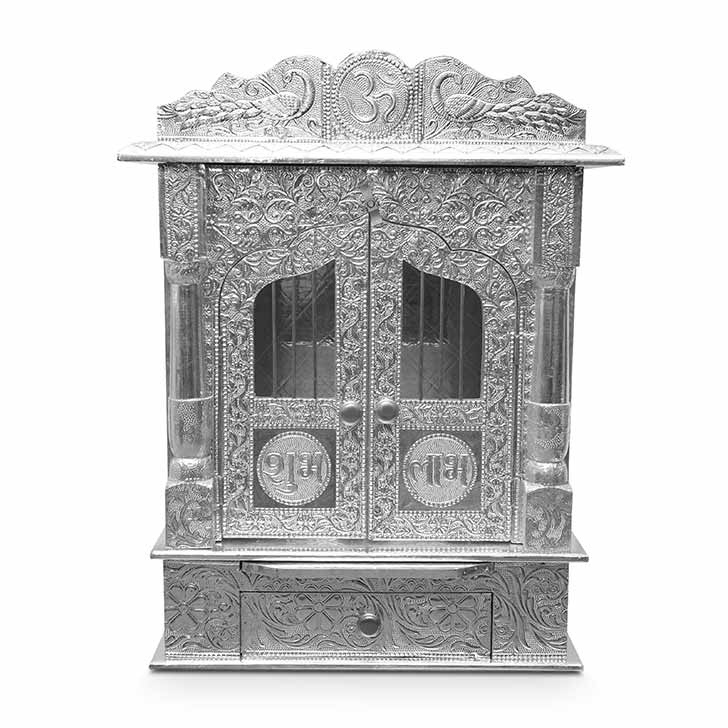 This aluminium temple looks inspired by the frescos of Rajasthan's Shekhawati – Fatehpur area. A couple of peacocks, found in plenty in that region, are etched on the top left and right with an Om in the middle.
It has a proper door which means that you can keep out the sand and dust (again, a huge factor in that part of India)
⇒ Buy from Fabfurnish.com
   
9.

 Aarsun Woods Triana Puja Temple in Brown
This solid wooden temple is guaranteed to give your praying area a simple yet classy look.
⇒ You can buy this temple on Fabfurnish.com for Rs.9500
   10. Designer Lanes Wooden Home Temple
This one is perfect for them who like to install the picture or idol of a single god or goddess. Elegantly designed, this one takes its inspiration from temples of Mysore. Don't miss the four hanging bells, one at each corner!
⇒ Buy on Flipkart.com