Looking for some stylish casuals? We have handpicked 10 stylish denim kurtis – from LimeRoad, Amazon & Flipkart. The designs are perfect for mall wear / college wear / non-formal office wear. Buy today and you can pick some of these kurtis (#3, #5, #6, #7, #10) for less than half the regular price.
1. Short Denim Kurti
Perfect for those who love the simplest of designs – Denim kurtis don't come plainer than this. Also available in a darker shade. Tap on the pic to find out more.
2. Denim Kurti With Pockets
Price: Rs.999/-
Discount: 20%
After Discount: Rs.799/-
3. Biba Ankle Length Kurti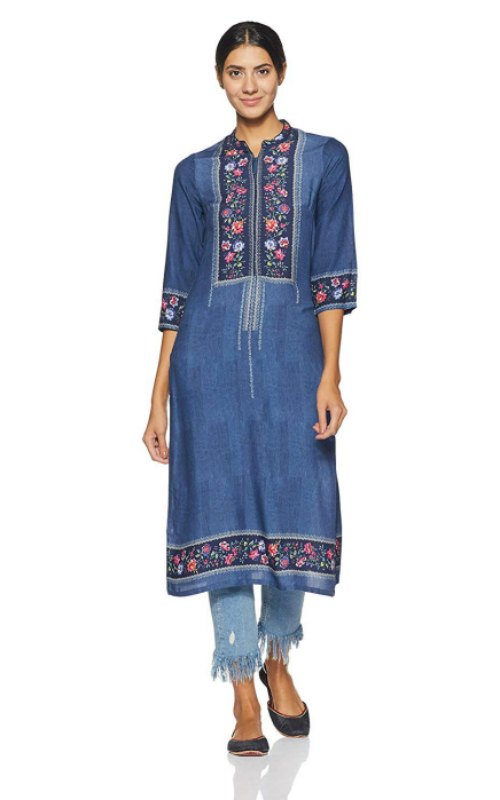 BIBA is one of the most liked women's wear brands in India. No wonder then that this kurti has a straight 5/5 rating on the Amazon store. What's more – a straight up 50% discount today. Doesn't get much better than this!
Price: Rs.1,699/-
Discount: 50%
After Discount: Rs.899/-
4. Denim Cotton Kurti
Price: Rs.1,799/-
Discount: 35%
After Discount: Rs.1,169/-
5. Embroidered Neck Kurti
How could our list have been complete without some lovely pink thread work!
Price: Rs.2,599/-
Discount: 62%
After Discount: Rs.999/-
6. Mandarin Neck Printed Kurta
Price: Rs.1,399/-
Discount: 50%
After Discount: Rs.699/-
7. Solid Straight Denim Kurta
Price: Rs.2,189/-
Discount: 64%
After Discount: Rs.788/-
8. Denim A-Line Kurta
Ain't it gorgeous? One glance and I thought no further before including it here. This one is selling like hot cakes on Myntra. If you are an M size, hurry up. Just four pieces remaining.
Price: Rs.1,899/-
Discount: 30%
After Discount: Rs.1,329/-
9. Navy Blue Denim Kurta
Gold works everywhere – even on denim. With a mandarin collar and beautiful ethnic motifs, this kurti was again an easy pick for us.
Price: Rs.2,299/-
Discount: 20%
After Discount: Rs.1,839/-
10. Round Neck A-Line Denim Kurta
Price: Rs.3,440/-
Discount: 58%
After Discount: Rs.1,444/-