The season for no-makeup is over. Officially. It's the season to change the grey scale to bright pops, sunset hues, bronzed tints and everything waterproof. Beat the gloom and glum with these strokes of colour.
Keep the makeup to a minimum in the rainy days. Move away from the no-makeup face and bring pops of colour on the eyes, lips and cheeks. Waterproof and smudge-proof are your buzzwords for this season. So, open out the palette and paint on, as Nitasha provides you some cool makeup tips for the monsoon.
ROCK THE POP
Bring out the fuchsia, the coral, hot pink and plums because the pop lip is back. A lipstick in a peppy hue is all you need to keep the grey at bay.   Fuchsia   is great for evening wear when you're stepping out for a party or evening drinks.   Coral is a great colour for the Indian skin tone. It's sassy, fun and works worn anytime of the day or night.
For cool as well as warm complexions, coral is the way to go. If you're on the lighter side of things, do try the hot pink a la Barbie. Fun, girly and cute, it's a colour that'll instantly bring a smile on anyone's face. Plum is yet another contender that works beautifully on Indian skin tone. Matte, gloss or sheer, this tone is a must-have in the lipstick larder. And last but not the least, red! What can we say? A pop of red can make all the difference to your face, your mood and your ensemble. So dip your brushes in pop this monsoon.
Get the look:
BRONZED CHIC
Up your makeup in the rainy months with ample usage of a bronzer. It adds the right shine to your skin and lends it a sun-kissed glow. The bronzer is a must-have in your makeup arsenal but the right application is what makes it look right. The first thing is selecting the right shade of bronzer for your skin tone. Not too dark or not too strong, not too light or not too shiny are things to be kept in mind. For fair skin, go for a honey-hued bronzer. If you have medium tone skin, use a rose or gold-tinted bronzer. For those on the olive side, go for a tawny bronzer that has darker shades and tints of brown. Slather on foundation so as to hold the bronzer powder in place on your cheeks. Dab some shimmer after application (don't forget the tip of your nose and cheekbones here). Voila, you're every bit the bronze goddess you're meant to be.
Get the look: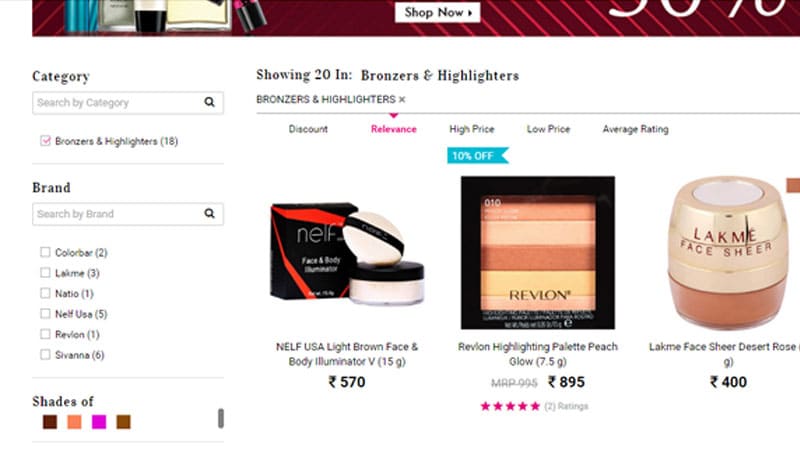 CHAMPAGNE BOOZE
Bring on the bubbly. Prosecco or Champagne, if we like the French more is the colour du eye-shadow this season. It's more a range of colours really, iridescent colours. The perfect highlighter for your eyes, this palette originated on the AW15/16 catwalks chez Anna Sui and Moschino, this bold but feminine trend has quickly become a red-carpet essential, as seen on the likes of Olivia Palermo and Gigi Hadid.The beauty of the champagne eye trend is that it suits everyone. The trick is to pick shades that complement your skin tone and brighten your eyes – look for pale golds if you have fair skin and go for warmer honey tones if your complexion is darker. After beginning with an eye shadow primer, apply a light champagne shade all over your lid and above the socket, making sure you blend well. Then go in with a soft brown shade, adding it to the socket and outer corner in a V-shape. Finish by running a dark brown pencil along your upper lash line before finishing with a generous coating of mascara.
Get the look:
KEEP DEVIL STREAKS AT BAY
The name says it all. A waterproof mascara is the most important tool in your makeup kit, especially during the monsoons lest you get caught in a downpour or need to flutter your lashes at someone through a downpour and nothing can ruin your look more than strange black streaks running down your cheeks. But, where does a girl who's looking for a non-smudgy option turn?
Waterproof mascara, of course. Not just any waterproof mascara — one that doesn't sacrifice length, volume, or overall oomph for the sake of an H2O-friendly product. So get yourself waterproof, sweat-proof and soppy movie-proof mascara pronto.
Get the look: