Let's accept the fact that the entire world revolves around good food, and without it, there is no fun in anything that we do. A plate full of delicious food can make anyone's day better in a jiffy, isn't it? When it comes to Indian food, we are already well-established on the global culinary map. Over the years, many amazing chefs took Indian cuisines to the world level in various forms. However, it takes much more than the rich and diverse presentation of traditional Indian fare to maintain the charm.
In the industry which was believed to be dominated by male chefs until a few years ago, it's great to see a lot of female Indian chefs breaking stereotypes and ruling the F&B business like a boss!
We have compiled a list of some of the most accomplished female Indian chefs who have put the Indian cuisine on the world platter. Have a look:
1. Madhur Jaffrey
Famously known as the 'Queen of Curries', Madhur Jaffrey has quite a lot of feathers in her hat to flaunt. She is an actress, food blogger, travel writer, and a television personality along with being a culinary genius. She has written over 15 cookery books and appeared on several television programs, in which the most notable was Madhur Jaffrey's Cookery show which was premiered in the UK in 1982.
She has won various awards from the International Association of Culinary Professionals for her writings. Her work is also recognized by The New York Times, Newsweek, Sunday Observer, Gourmet, Readers Digest, and Food & Wine.
2. Ritu Dalmia
Ritu Dalmia is a chef and co-founder of a popular Italian Restaurant, Diva in New Delhi. Ritu hails from Kolkata and was introduced to the Italian food during one of her trips to Italy in her teenage. She couldn't help but fall in love with the interesting Italian cuisine. Dalmia never underwent any formal training and yet she is recognized as one of the best Female Indian Chefs in the culinary world today. At an early age of 22, she started her first restaurant 'MezzaLuna' serving both Indian and Italian delicacies.
Additionally, she even hosted her own shows like, 'Italian Khana,' and 'Travelling Diva'. In 2011, she was awarded the Order of the Star of Italian Solidarity by Government of Italy.
3. Tarla Dalal
Tarla Dalal is undoubtedly the most popular and adored female Indian chef so far across global kitchens. Dalal started her culinary career by hosting cooking classes at home in 1966, post her marriage. She published her first book in 1974 called "The pleasures of vegetarian cooking". The book sold over 1,500,000 copies which led her popularity to grow multifold. Later she went on to write over 100 cookery books, conducted shows around the world and became the owner of the largest Indian food website.
She was honoured with the "Woman of the Year" Award in 2005 for revolutionizing the culinary industry. She also became the first Indian cookbook author to be awarded with Padma Shri for her contribution to the food industry. She passed away in the year 2013 at the age of 77 but her legacy continues. Her website is currently listed amongst the top 10 cookery sites in the world.
4. Nita Mehta
Nita Mehta is a restaurateur, author and a media personality. She has founded the largest Indian publishing house of cookbooks and has published over 600 cookbooks, many of which won international awards. She conducts various cooking shows across the globe, and has her own cooking institute in Delhi- Nita Mehta classes which is quite renowned.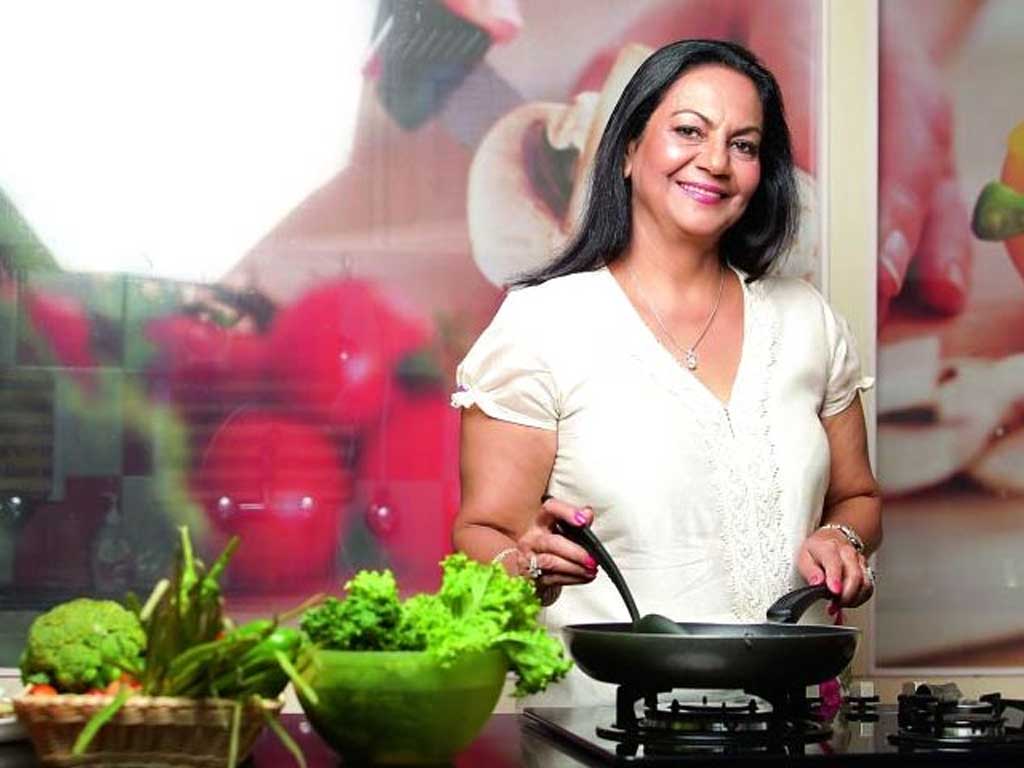 She launched her own restaurant- Kelong in the year 2012 and added another accolade in her kitty. Apart from this, she has judged several cooking contests, such as Mallika –e-Kitchen and MasterChef India.
5. Garima Arora
Garima Arora is the first Indian woman chef to win a Michelin star, proving gender is not a criteria to define a "good chef". She owns a restaurant in Bangkok called Gaa where she creates some amazing cuisines combining Indian dishes with the international taste buds. Her interest in cooking was ignited by her food-loving family, particularly her Dad and she ended up graduating from the famous Le Cordon Bleu cookery school in France. Today, there are many chefs who own a Michelin star but when Garima received it back in November 2018, she was the first Indian woman to bring the honor home.
6. Maneet Chauhan
Born into a Sikh family in Ranchi, Jharkhand, Maneet got introduced to diverse cuisines and food traditions from a very young age. She began her formal culinary education in India and later moved to the US to study at The Culinary Institute of America. After witnessing how far from reality, the US representation of Indian food is, she decided to change the notion. She assisted her uncle and Aunt in their restaurant business and later moved to Chicago to continue her journey. She's now a permanent judge on popular shows- Chopped, and, Wedding Cake.
She, along with her husband, own three restaurants called Chauhan Ale & Masala House, The Mockingbird, and an Indian street food eatery, called Chaatable.
7. Asma Khan
Asma's culinary journey has been quite unplanned. She was working as a journalist in India, met a guy there, got married and moved to London. Not knowing how to cook and simultaneously not being a fan of English cuisine, she came back to India to learn her family recipes, before starting her pop-up restaurant in London.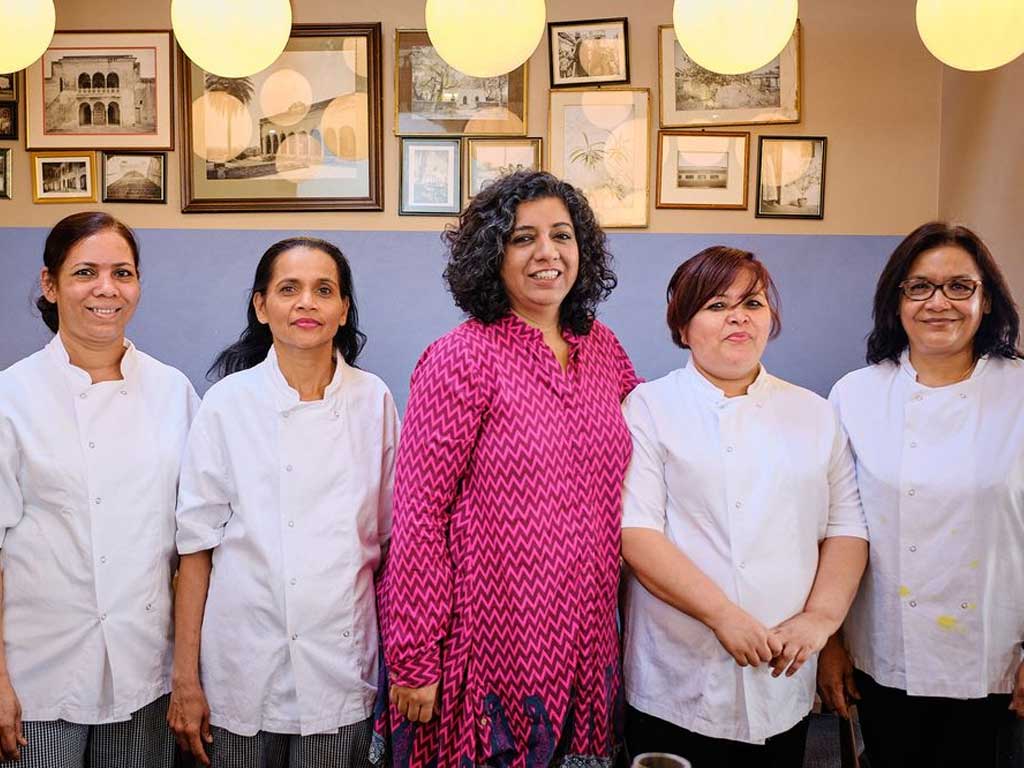 Her restaurant, Darjeeling Express, was started in June 2016 and she hasn't looked back ever since. Her restaurant serves authentic royal Mughal recipes and features a unique "All female" kitchen brigade.
8. Ravinder Bhogal
Born into a large extended family in Kenya, Ravinder found herself surrounded by foodies and learnt to cook at a relatively young age. She although never considered cooking as a career. While working as a journalist, her colleague helped her apply for a cookery contest on Gordon Ramsay's The F Word – and to her biggest surprise, she ended up winning it. This changed her life- leading to more media coverage, authoring a book, and hosting various TV shows. Stage shows, pop-ups and private catering gigs followed and eventually, she opened her own restaurant, Jikoni.
9. Dipna Anand
At only 35, Dipna has achieved much more than one can imagine. She is the author of a best-selling cookbook, is a popular face on television, runs a cookery school, bagged several awards and has been praised by former UK Prime Minister David Cameron for her cooking. Her restaurant, "Brilliant" serves Punjabi cuisine with a Kenyan twist.
10. Romy Gill
Romy Gill is an Indian chef based in England. She was born and brought up in West Bengal and doesn't have any professional training in cooking. She is self-taught, gained good insight about global cuisine being a chef for many years and eventually opened her first restaurant at the age of 41, in England. She is one of the very few Indian chefs to be appointed as an MBE in the Queen's 90th birthday honors list in 2016.