The advantages of online shopping are many. You don't need to worry about stepping into the sun or rain. No traffic jams to overcome. Plus, the sheer number of choices can put the biggest shopping mall to shame. Yet, there is one thing which I used to have difficulty coping.
How to pick the right size that would fit me. In a store, it is easy. Pick up the item and check it out in the trial room. Alas, technology is yet to recreate that in the online space. But over time, I created my own system to overcome this problem. That is what I am going to share with you guys here today. Just follow these steps and choosing the correct kurti or top size will no longer look like a hassle.
1. Before shopping, measure yourself
Take a measurment tape and measure your bust size, hips and waist. Make sure that the tape is straight at all times. For best result, do this in front of a full length mirror.
It is not uncommon for a measurment tape to pick up wrinkles over time. Avoid such tapes as you will end up with the wrong sizes.
When measuring your bust size, always wear an underwired, non-padded bra. If you are buying a top or kurti, then a general bust size measurement is good enough. For bra shopping, you will need to follow a few more steps.
First measure your under bust and then your over bust (the most protruding part of your breasts). Do this carefully – you may be surprised to know that as high as 85% Indian women wear the wrong size bra.
If your breasts are of slightly different dimensions (again, not uncommon) then measure the larger one. That will give you your correct cup size. Some women experience swelling in the breasts during the periods. If that is the case with you too, then make sure that you are measuring them when they are back to the normal size.
For measuring the waist, always place the tape above your belly button, but under the rib cage. For hips, measure at the widest point. While doing this, keep a distance of 6 inches betweeen your feet.
For any kind of lowers – salwars or palazzos, make sure that you are measuring from the point at which you normally tie your salwar.
2. Always check the Size Chart
Even though after doing all the measurements, you may have decided that, let's say 'M' is your size. But check the size chart for the particular brand if it is available. It often is. Sizes may vary from brand to brand. So a particular hip size, which falls under the 'M' size in Brand X may be under the 'S' size in brand Y.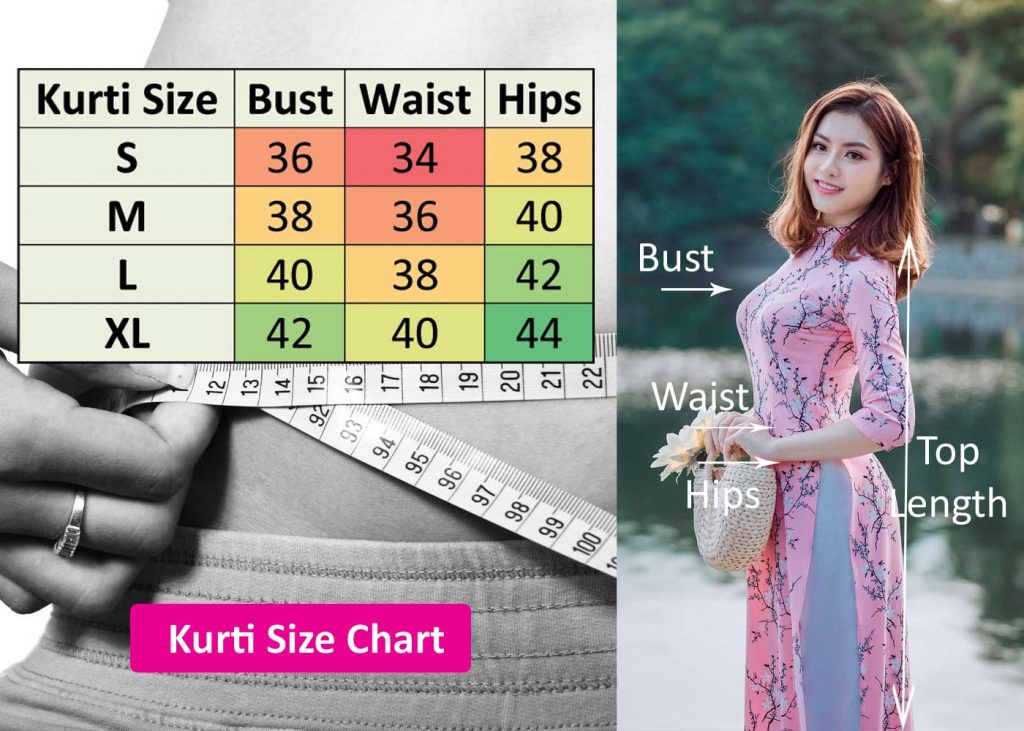 3. Do read the reviews and comments for that specific garment
Scroll down to see if previous buyers have left behind any reviews or comments. On large shopping sites like Amazon or Flipkart, you will often see dozens of reviews. You can also filter the comments / customer reviews and answers by 'size' to read only the ones concerning measurements. See pic below.
4. Check the Product Description
Whatever apparel you are buying, read up the product description for it. Check for things like fabric. Some fabrics tend to shrink after a wash. Others loosen up. If you are not aware of the characteristics of the fabric, do a google search. You will find tons of relevant information. Some fabrics which are less elastic tend to shrink while the opposite is true for other fabrics. There is no point in picking up the right size only to see it shrink in your washing machine!
5. Check Product Pictures taken from Different Angles
There is a reason why companies provide several pictures of the same apparel. By taking a look at the garment from different angles, you will be able to spot a potential problem, since you would know your own body best.
6. Check the Exchange Policy
Despite taking all precautions, you may receive a garment that doesn't fit you properly. Now what? You don't need to worry as most online shopping sites provide you with an option to exchange or return the product.
But you must ensure that you have checked that the site or app you are purchasing from provides for it. It is possible that certain items are not covered. Always double check.
7. Create a List of Brands that Fit You Well
Ask any of your friends. They will invariably tell you that clothes by certain brands fit them better. The brands will differ from person to person. This happens because bust, hips and waist are not the only things that matter. Every body has its own peculiarities.
As you shop, you will also come across brands that fit you better than other brands. Keep noting down their names and create a list of such brands. Next time you shop online, first look out for these brands.
8. If there is a minor problem with the fitting, take the help of your neighbourhood tailor
It often happens that a certain garment will fit you everywhere else perfectly barring one particular spot. A minor alteration by your tailor may solve this problem.
Bonus Tip: Whether you are shopping online or at the mall, check out this video. You will save tons of money.
You may also like to read these: