Do you too struggle to get those perfect winged eyeliners? Well, at some point we all do. Getting a perfect flicked wing is a subtle art, that you can master only through practice. But does that mean, until then, you'll roam around the city with a badly done eyeliner? No, never! We'll help sail you through this misery, ladies.
Let's check out how to make a perfect winged eyeliner every time! No pain, no tears, no stress. Don't worry, you can thank us later!
Trick 1: The Card Trick
Place a card diagonally under your lower lash line.
Now draw a flick starting from the outer corner of your upper lash line. (Length of the flick will depend on the amount of drama that you want to add in your look.)
Now join the flick till the midpoint of the upper lash line.
Draw a line working from the inner corners of your lash line towards the outer corners, fill in any gaps and voila that's a perfect eyeliner!
Trick 2: Using A Cotton Bud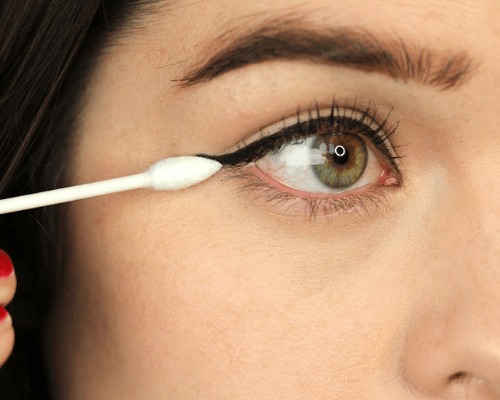 Draw a line from the inner corner of your eyes towards outer. Just like you normally would draw an eyeliner.
Dip a cotton bud in a make-up remover and clean the extra fallouts.
Place the cotton bud aligned with the angle of your lower lash line and wipe off the extra drama.
Trick 3: Place Your Elbow On A Flat Surface
Shaky hands surely do ruin your eyeliner and make you look like a panda.
What you need to do is to look out for a flat surface where you can place your hand comfortably and then draw the liner. This will give you hold of your movement.
If you can't find such a place, then at least support your elbow with the other hand.
5. Trick 4: Use Tapes
Cut out a tape and stick it underneath your bottom lash line and angle it as per your desire.
Now draw a line along your lashes.
Wait until it completely dries out and removes the tape.
5. Trick 5: Join The-Dots
Make small dots on top of your lash line, make sure you stay as close to it.
And, you literally Join the dots! Fill in all the gaps and you are good to go.
Trick 6: Conceal It
Draw your eyeliner with a free hand. And in case if you have made a mistake, then
All you need is a little concealer on an angled brush to carve out that winged liner.
Slowly and steadily clean out your winged eyeliner. Once you have finished this step, you'll be left with perfect, pointed and symmetrical eyeliner.
Points To Always Remember
Since you aren't a pro, always try and stick by a felt-tip liner.
If you are using a liquid liner then keep it in the refrigerator 15-20 minutes prior to using it. It hardens the tip and makes it easier to apply.
Always keep a cotton bud with you. I call my cotton buds my prince charmings! When you have messed it up, they will come to your rescue.