Know the season's five hottest ramp beauty trends and the brands that can help you get them.
1. How red is your love
Toss the pale lips out and bring out the bright palette. Think red and all colours red-like. Think scarlet, crimson, strawberry, rouge, pinky-red and black cherry. The red palette has hit town with a bang and make the most of this bold colour on your lips.
Burberry kicked up a storm with the creamy scarlet shade on their models. Missoni and Oscar de la Renta picked out a red-pink, Jean Paul Gaultier used the elegant powder red and Jonathan Saunders was seen cherry- picking.
Outline the outermost part of your lips in a red pencil to accentuate the shape of your lips. Fill in your pick of red and blend well. This helps make lips look fuller and bigger. Dramatic, classic and bold, the red has a sensual appeal that is simply irresistible.
GET THE LOOK:
2. Drama on the eye
The cat-eye trend last year seems to have become de-rigueur for all those who have their makeup pat. Spilling onto this season as well, Thierry Mugler and Miu Miu took the cat-eye eyeliner effect and made it retro by flicking it upwards just a tad. There is also the modern rim that is a tight outline that is softly smudged. This look dominated the BCBG, Lavin and Roberto Cavalli runways.
A bit of contrast never hurt anyone. Chanel did just that by upturning a downtown look into an uptown one by using a distinctly jet black liner and brushing a platinum shadow on the lids. Great way to turn a day time look into an evening one in no time!
GET THE LOOK:
3. The brow row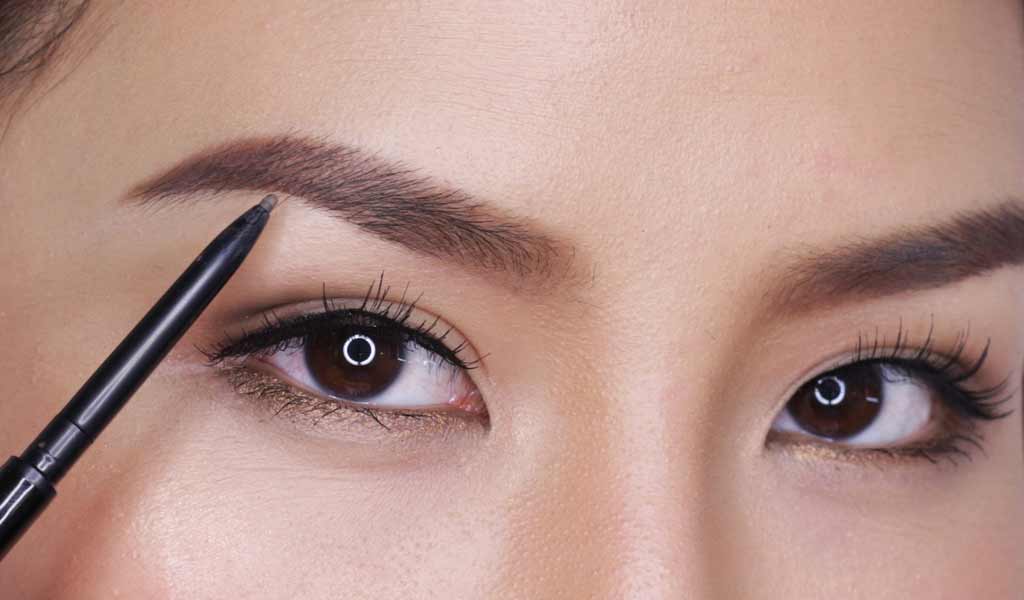 Strong eyebrows have proven that they are here to stay and while not everyone is a fan, those who can pull it off, hats off to them. One look favoured here was the clean and fresh nineties inspired one, which was brought about by filling in M.A.C's eyebrow pencil in Fling and Lingering. At the same time, Estée Lauder accentuated the arches  by using the Automatic Brow Pencil Duo in a shade of brown.
A useful tip: Brush your eyebrow hair down to get its natural shape and then fill in the blank spaces with a pencil using small, fluffy strokes.
GET THE LOOK:
4. Luscious spider lashes
The lashes have gone to town this season from inky, Twiggy-esque fringe Thick shapely eyebrows? Very very hot! So shape them in, NYX, `780 at Jean Paul Gaultier to curled and combed up at Gucci. For those with a taste for adventure, the chic-clumpy type, read Véronique Leroy, is ideal while heavy lashes set off with a white liner and nail to match at Moschino was a popular favourite this season.
GET THE LOOK:
5. Glitter bomb
Glitter is definitely for grownups, only because kids could never master the sophisticated ways in which it showed up on the runways. This season, sparkle was at its most wearable everywhere from Tommy Hilfiger to Burberry. While makeup mavens have been playing with it for years, you too can add a bit of glitter to your look in case you want to go from day to night in seconds. Try using a taupe colour in the outer corners of the eyes and dusting loose glitter right in the middle to make your face pop.
GET THE LOOK:
6. Glow on
Take a break from shading, blushing and highlighting. The prettiest skin is neither shiney nor mattified. It is just radiant and natural and autumn is the best time to show off its vitamin D-derived radiance from the winter sun. Arm yourself with blush, a tinted lip balm and mascara and your look is done. Pair it with berry lips and hair in a bun over a fresh natural face. Highlighters, shimmering tones and golden eyeshadow can only add to this beauty look.
GET THE LOOK:
7. Art show
What do quilted handbags, gravitational waves and '60s pop art all have in common? Nothing, minus the fact that they all inspired the makeup at some of the biggest shows. At Chanel (left), Tom Pecheux reinvented the classic smoky eye with a netted pattern that paid homage to the brand's iconic bags; Peter Philips translated Einstein's theory into psychedelic swirls made for the festival scene at Fendi; and elsewhere, graphic lines that went outside the traditional lines were all the rage.
GET THE LOOK: