Blessed indeed are the women born with a wheatish skin tone! The common Indian genhua complexion is any makeup artist's dream come true. It is compatible with the largest number of shades and products. Here, we have compiled for you, a list of the most suitable lipstick shades that will pair perfectly with wheat.
But first things first. Before picking up the right lipstick shade, you need to know your 'skin undertone'.
Whether you are aware of it or not, there are basically two skin undertones – warm and cool. And yes, there's a neutral too. There are several techniques to identify yours, be it wrapping yourself in a white towel and wearing a bulky gold necklace or checking the colour of your veins on your wrists.
You can also watch this video to know your skin undertone:
So, once you know your skin undertone, the process of choosing a lip shade is simplified. Here, we divide all recommended lip shades for wheatish skin under warm undertone and cool undertone.
Best Lipstick Shades for Wheatish Skin Tone with Warm Undertone
Wheatish skin complexion gives you a lot of confidence to carry off anything and everything gorgeously. So, if you ever wished you had a lighter skin tone, just eject that thought right away! There are plenty of lip shade options for Indian skin tones, specifically wheatish or beige complexion, although there are a few you must steer clear off. So before we begin what's hot on your lips, let's first see what's not. Nude, neon, and coral are some of the lip shades we do not recommend for your skin tone. You will however find many beauty experts suggesting these lipstick shades for wheatish and even dusky skin tone but if you trust DusBus, it's not even worth a try.
Sultry and Sensational – Bronze
This sensational metallic lip colour works best for evenings and goes well with formal attire, be it Indian or western. Its statement-making lip colour makes a wheatish skin glow magnificently, adding oomph and glamour to your overall appearance. It is easy to match your eye makeup with bronze lip color. If you want to make it extra sensational, use the same makeup shades for eye, or stick to shades of brown for eyes, while your lips drape this splendid metal.
M.A.C Frost Lipstick – Bronze Shimmer is an excellent choice with a high pearl finish and medium buildable coverage if your makeup budget isn't stingy while Lotus Makeup Proedit Silk Touch Gel Lip Color, Bronze Buzz is a great product too designed with multi-faceted pigments and moisture complex to ensure ample hydration.
Spicy Addition – Cinnamon
Although most shades of brown go well with your skin tone, but what looks most elegant is cinnamon brown. The thought of the shade itself fills your heart with warmth, sweetness and spice straight from the bark of cinnamon to balance your undertone and give your face hot uplift.
Lakme understands Indian skin tones like no other and hence their product Lakme Enrich Lip Crayon – Cinnamon Brown is the best bet. You will also love the texture and smoothness of Maybelline New York Color Sensational Creamy Matte Lipstick, 660 Touch of Spice
Fairytale Land- Peachy Brown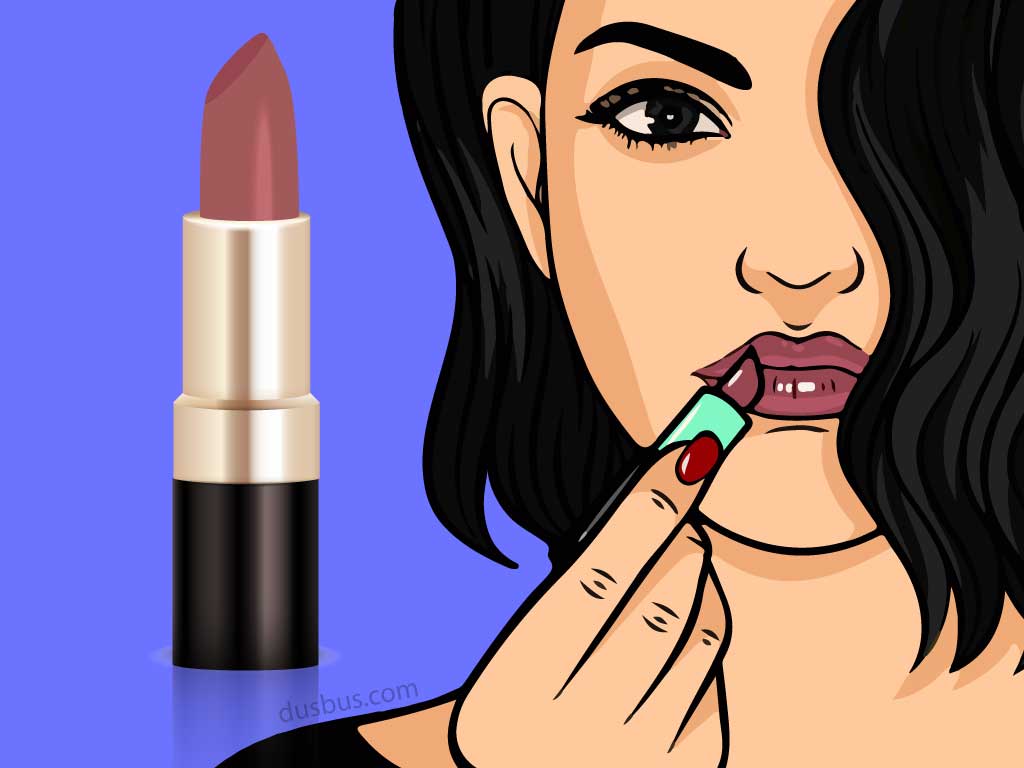 If a flirtatious look is not on your mind, but enhancing your skin tone surely is, stick to Maybelline New York Color Sensational Creamy Matte Lipstick, 657 Nude Nuance. The name of the shade might be misleading but it is the best peachy brown you will find in India. SUGAR Cosmetics may not be a very popular cosmetic brand but Nothing Else Matter Longwear Lipstick – 11 Peach Bunny might make you add it to your list of favourite brands. Another peachy brown lipstick for wheatish skin tone we swear by is Wet n Wild MegaLast Liquid Catsuit Matte Lipstick (Give Me Mocha) that has the creamiest texture you will ever find.
Best Wheatish Complexion Lipstick Shades for Cool Undertone
Pick the Right Pink
For wheatish skin tone, almost all pink lipsticks work best except a few with a blue undertone. As pink lipstick shades are myriad, we picked a couple of best suited pink lipsticks for your skin tone. Lakmé Enrich Lip Crayon in Shocking Pink is your pick if you are in for punk-look while and Lakmé 9 to 5 Lip Color in Pink Perfect is great for a day to day wear and might just become that lipstick you end up extracting with an earbud when it finishes! You can also consider Elle 18 Go Matte Lip Crayons – 03 Mauve Shot.
Sexy and Edgy – Red
Red lipsticks are mostly tailor-made for your skin tone and you should be the last person to have a doubt about picking one. Occasion and attire, however, should match with your choice of lipstick as with red, you are never casually dressed. Dark reds like cranberry and darker further like brick, rust, maroon and burgundy are just your best friends. One such great pick is M.A.C Lipstick/Little -Russian Red. Brighter and lighter red however like tomato red although you might want to skip. You may also want to grab Lakme 9 to 5 Primer and Matte Lip Color, Red Rust for its long-lasting comfortable matte finish.
For your special occasion, get your hands on Chambor Extreme Matte Long Wear Lip Colour, Aztek Brick No.04 and you wouldn't regret it.
Safe Territory – Wine
To rock that party look, get the best wine lipstick that will enhance your wheatish complexion in the best manner, and get you ready to roll. Wine lipstick pairs well with dresses of all colours. Just give your eyes a nice makeover and you are set for the evening! Maybelline New York Color Sensational Creamy Matte Lipstick, 695 Divine Wine can be a great choice if you want a deep wine lip shade with a creamy matte finish. If a party isn't on your mind, Faces Canada Weightless Crème Lipstick 4 g Wine Drop 20 (Wine) is a great daily office wear wine lipstick you should consider.