The fear of hefty bills driven by your old power-guzzling ACs could give you sleepless nights during the summer. Well, if you choose the right one, you could perhaps be less worried and have a better summer. These are the 10 best Air Conditioners in India as per electricity consumption saving, which give you the twin benefits of reasonable prices and low power consumption (as per the BEE star ratings). The best AC for your individual needs will also depend on various other factors such as the room size, structure and of course your budget.
HITASHI KASHIKOI 5300I (RAU512IWEA)
It's a split AC with inverter technology and is available in 1.0 to 2.0 ton capacity. Our pick in this are the 1.0 and 1.5 ton variants. 
Other features include:
Powerful Mode
One Touch Silent Fan Speed
Auto Fan Speed
Low Derating (10% Higher Performance in Peak Summer)
Backlight Remocon
Soft Dry
Defrosting Sensor
Our research shows best prices are available with offline retailers.
GODREJ GSC 12 GIG 5 DGOG
Another split AC on the list from one of the oldest companies in this segment in India, Godrej. The company has definitely come of age and the product quality is better than ever before. One of the crown jewels in its wide variety of products is the GSC 12 GIG 5 DGOG. This one is a 1.0-ton variant. Boasting of features like:
2 ISEER –

31% lesser power consumption over 5-Star non-inverter ACs

Green Balance Technology
PFC (Parallel Flow Condenser) with

Nano Coated Technology for longer life.

Conformal Coating on the PCB (Printed Circuit Board) unit for resistance from moisture and corrosion.
Intelligent Air Throw Mode & UDAT (User Defined Air Throw)
3X BLDC Technology
R290 Greenest Refrigerant
Auto Clean/Blow Function
Memory Function
Auto Mode
Silver Ion Filter
Turbo Mode
Dry Mode
Sleep Mode
Auto Restart
Best buy from Snapdeal.com for Rs. 36,000 (EMI options also available).
DAIKIN FTKM50QRV16
DAIKIN FTKM50QRV16 makes into our list because of sheer performance and some unique features that it offers at its price range:
POWER CHILL operation quickly maximizes the cooling effect in any operation mode. For faster cooling, use easy POWER CHILL button. This function ends in 20 minutes.
A WI-FI enabled device to help you control your ACs with a smartphone/tablet connected to the Internet.
Swing compressor and DC motor offer higher efficiency
This filter is made with titanium oxide. It adsorbs and decomposes bacteria. The filter can be used for up to 3 years with proper maintenance.
Intelligent eye: Senses human movement for temperature adjustment
Coanda airflow: Improves circulation of cold air
Available at 46,990 from www.croma.com
VOLTAS 125V CROWN (AW)
Another veteran in its field, Voltas has a firm hold on the Indian market for a few decades now. Keeping the tradition is VOLTAS 125V CROWN (AW), which comes with the following features:
Anti Dust Filter
Catechin Filter
Acaro Bacterium(Red) Filter
Silver Ion Filter
Self Diagnosis
LED Display
Dual Temp Display
Best prices are available offline.
CARRIER OCTRA 1.5 Ton
Bring home clean air with Octra 3 star split AC with features like PM2.5 micron filter, which removes the smallest particles and helps provide clean and healthy air for your family. Some key features are:
Super Turbo mode
Electrostatic Fiber and Active Carbon Filter
Hyper Protective Filter
Multi-stage Cleanser
Priced between Rs. 35,490 and 42,290. You can purchase it on Snapdeal.com
ONIDA TRENDY- S123TRD
Onida Trendy Range is designed to deliver powerful cooling with high energy efficiency in peak summer using world class compressor with Japanese Technology, advanced thermal balancing and system designs with large coil area & multi point refrigerant injections, aerodynamic fans with low power consumption motors and special controls. Key features include –
Powerful cooling
100 % Copper coil
Life style Design
Low starting current
Auto Clean, Thermistor Temp. Control, Blue Evaporator Fin
It's available on all the leading online portals ranging between Rs.24, 600 and Rs. 28,690
WHIRLPOOL MAGICOOL PLT V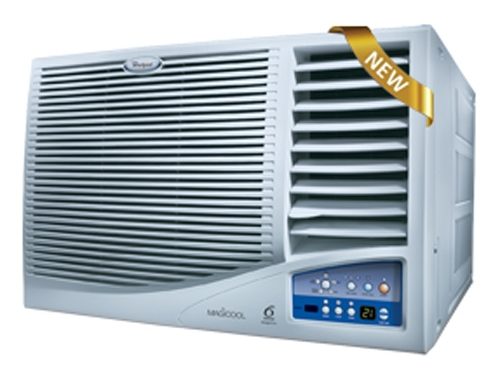 Not everyone goes for the Split AC, so here is the very first Window AC making its mark. Whirlpool's intuitive technology knows exactly what you want and when. It intelligently senses and automatically adjusts the cooling depending on the temperature inside the room. Key Features include:
6th Sense Energy Saver
Turbo Cool Function
MPFI Technology
Self Diagnosis
It is currently available for Rs.25, 270 on Homeshop18
LG LWA3BP5A
LG air conditioners come with features like auto restart, energy saver mode and on or off timer which promise to give you the best cooling with reduced electricity bills.  Key features include:
Dual protection filter
On/Off timer
Sleep Mode
4-WAY AIR DEFLECTION
Dehumidification Mode
Energy Saver
Priced between Rs.25, 131 and Rs.27, 300, it's available across all the leading online shopping portals.
BLUE STAR 5W18GA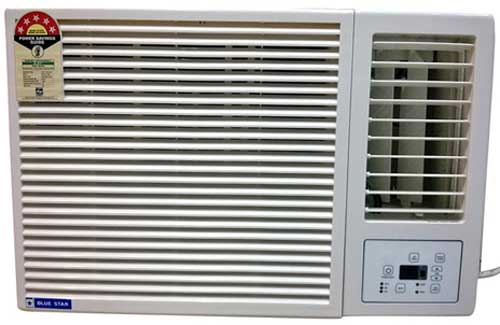 With multi fan speed to choose from, an auto-restart with memory function, a filter check LED on the front panel and cordless LCD remote; the ACs are specially designed keeping all your needs in mind. Key features include:
Multi-Fan Speed
Cleanable Panel
Sleep Mode
Powder-Coated Outer Body
Filter check LED
On/Off Timer
Self Diagnosis
Hydrophilic Blue Fins Evaporator
Anti-Freeze Thermostat
Anti-Corrosive Blue Fin Copper Condenser
Auto Restart with Memory Backup
Currently, it is available across all the major online portals priced between Rs.27, 480 & Rs.30, 150.
NAPOLEON NAP24WHA
NAPOLEON is an Indian brand, trusted by many for quality. The modern and fully equipped production line offers the state-of-the art products for all kind of customers. Here is one of its best products in 1.5 ton to 2.0-ton category.  The NAP24WHA boasts about the following features making it one of the best in its class for its efficiency.
LCD Cordless Remote Control
Super Wave Technology
Four Way Air Deflection System
Three Level Cooling
Sleep Function
Energy Saver Mode
24 hours On/Off Timer
3 Minute Protection Function
Dry/Dehumidification Mode
Advanced Heat Exchange System
Slinger-up System
Best prices are available offline.
So get one of these today and have a cooler and stress-free summer!!