While building your residence, it is important that you follow the basic principles of Vastu Shastra. This will usher in health, wealth and prosperity of all your family members. In this piece, we are exclusively focusing on the location and direction of your Pooja Ghar (temple) in your home.
In any Hindu household, a Pooja Ghar is ubiquitous. A temple on your residential premises ensures a constant flow of positive energy. Therefore it is essential that while constructing your house or while redesigning it, you take care to ensure that the Pooja Ghar is located in the right location and direction – as advised by Vastu Shastra.
As per Vastu, which direction should your Pooja Ghar be in?
As per Vastu expert Amit Lamba, the Pooja Ghar must be located in the north-east corner of your house. Irrespective of the direction of your house, choose the north-east direction within your house to place your home temple. When the temple is located thus, it causes the supply of positive energy in your premises and enhances the wisdom and well-being of all family members. Renowned Vastu expert Dr. Anand Bharadwaj concurs and says, " A positive Pooja Ghar, thus placed, provides peace of mind to everyone living there."
As per Vastu, which direction should you be facing when worshipping?
While offering your prayers, you should be always facing the east. This brings wealth and prosperity.
What should the colour of the Pooja Ghar be?
Vastu says that it is best if the walls of your Pooja Ghar or the walls in the area around it are painted in a light yellow colour. In Hindu culture, yellow is considered an auspicious colour and is associated with religious rites and functions.
Don't place the Pooja Ghar in your Bedroom
The rules of Vastu are very clear on this one. You should never place the Pooja Ghar or the idols of deities in your bedroom or in any sleeping chamber. However, if you are not able to help the situation, please ensure that before you go to sleep at night, you draw the curtains to the temple.
What things shouldn't be around your home temple?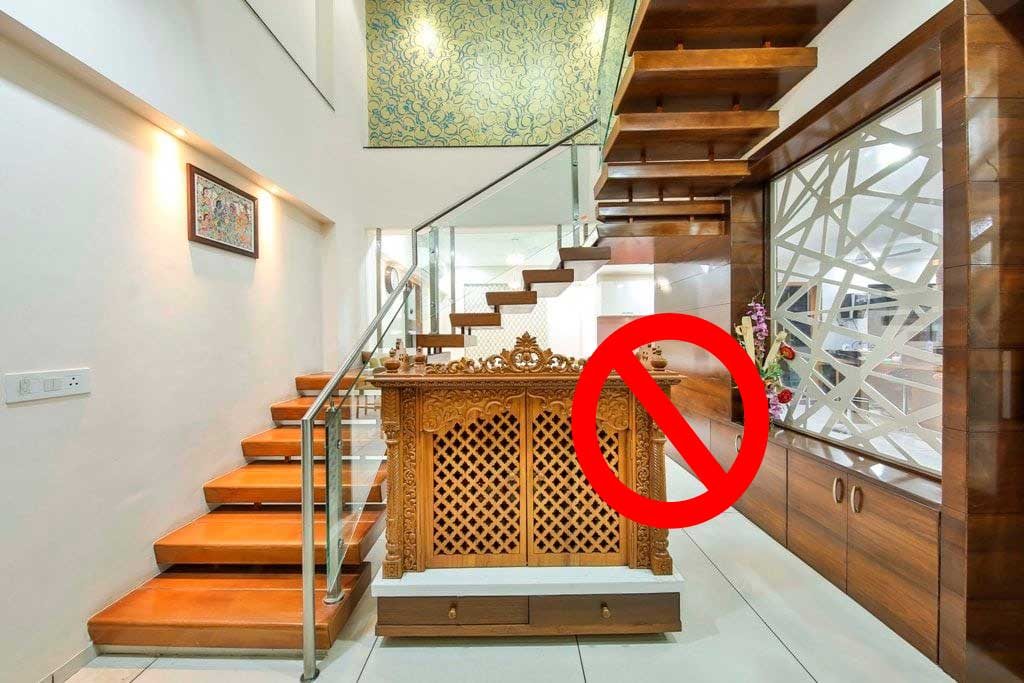 No bathroom or urinal should be located close to the temple. This hampers the flow of positive energy and stops the progress of wealth and happiness.
Do not place any dustbins near the Pooja Ghar. Do not put any brooms or mops nearby. You should have a separate broom or dusting cloth for the temple in your home.
Avoid placing any idols or pictures which shows a god or goddess with more than two weapons in their hands.
Don't make your Pooja Ghar or place your temple under the stairs. Also, the Pooja Ghar or temple shouldn't have a dome type structure (cupola) at the top. Vastu considers that to be a source of negative energy.
Try to follow as many Vastu tips given above as possible. Placing the Pooja Ghar in the north-east direction will bring health, wealth and prosperity to everyone in your home. However, it is sometimes not possible to follow all the points. Don't worry about things that are beyond your control.