Navratri has already begun, Durga Puja is round the corner and Diwali less than a month away. And it's the time for the big bumper sales of the year. All the leading shopping sites are in the middle of their biggest annual sale. If you want to shop, there can't be a better time. We have picked up for you eight awesome Kurta & Palazzo Sets. We have a mix of designs from the Flipkart Big Billion Sale, the Amazon Great Indian Festival Sale and a couple of kurtis from the Myntra sale too.
Affiliate Disclaimer: When you click on any of the links below and buy something, we earn a small commission.
1. Mustard Kurti with Palazzo Pants
We absolutey loved this mustard and sage green kurti. The Palazzos are simple and stylish and the two form a lovely combo. We found this same design on both Amazon and Flipkart, and this piece had good feedback and ratings from customers on both the platforms.
Original Price: Rs.3199
Discount: 69%
Sale Price: Rs.989
Buy on Amazon
Note: This above garment is also available on Flipkart, but the price on Amazon is lower.
2. Orange & Gold Kurti with Black Palazzos
Original Price: Rs.3699
Discount: 65%
Sale Price: Rs. 1294
Buy from Myntra
3. Blue Kurta & Palazzo Set
Original Price: Rs.2500
Discount: 69%
Sale Price: Rs.764
Buy from Flipkart
4. Cotton Kurti-Palazzo (Best Seller)
Women across the country have absolutely loved this simple and comfortable cotton Kurti-Palazzo set. The price and discount mentioned below is for the 'M' size. They may slightly differ from size to size.
Original Price: Rs.1499
Discount: 65%
Sale Price: Rs.519
Buy From Amazon
5. Embroidered Top with Palazzos
Well, this one is slightly out of syllabus! Not quite a kurti there but we loved the design so much that we thought that you would too. Both the embroidered top and the palazzo pants look stylish, elegant and super comfy. Awesome discount too.
Original Price: Rs.3199
Discount: 70%
Sale Price: Rs. 959
Buy from Myntra
6. Embellished Kurta, Palazzo & Dupatta – Perfect Festive Wear
It's a beautiful set, but unfortunately it's selling like hot cakes and currently available only in the XL size.
Original Price: Rs.5500
Discount: 60%
Sale Price: Rs. 2200
Buy from Flipkart
7. Flared Kurti & Palazzo in Pink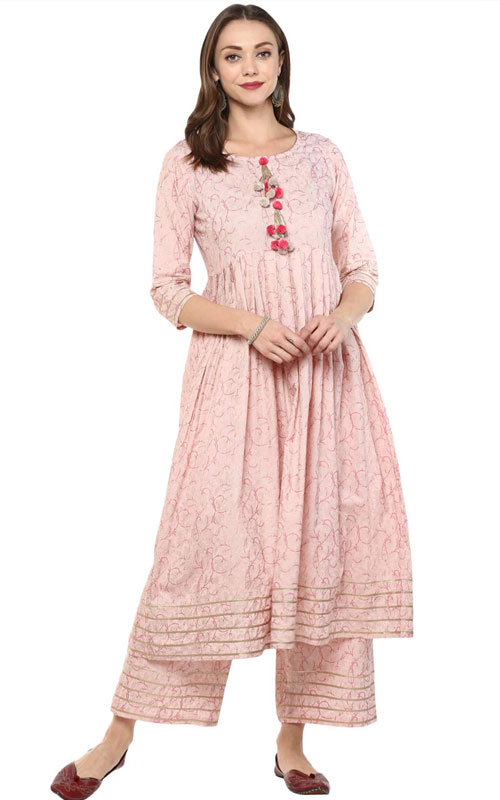 If you too love cute pink things like Barbies and everything else that is cute, then I am sure you would have loved this kurti-palazzo set too. Post the discount, you can buy it today for a steal.
Original Price: Rs.3499
Discount: 71%
Sale Price: Rs. 995
Buy from Amazon
8. Kurti & Palazzo with a Stylish Jacket (DusBus Recommended)
For an absolute style statement (at a bargain price), look no further. The off-white Kurti Palazzo set is elegant, but it is the gold-blue jacket which is doing the real trick by adding oodles of style to the garment.
Original Price: Rs.2799
Discount: 62%
Sale Price: Rs.1063
Buy from Amazon